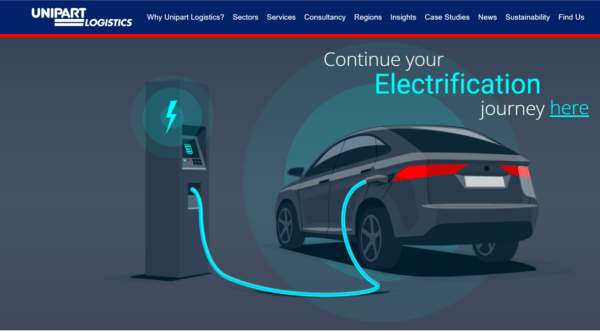 Unipart Logistics has launched an enhanced range of EV battery solutions to support the automotive industry's rapidly growing production challenges and critical supply chain demands.
Building on over ten years' of EV battery storage and transportation services for customers around the globe, this enhanced supply chain proposition offers the full range of safe, compliant and sustainable services needed to supply, maintain and support the full spectrum of EV battery lifecycle requirements including; 
a tiered Advanced Battery Care solution which provides bespoke charging, monitoring and conditioning requirements for customers requiring increasingly complex EV battery services

services to charge EV batteries in dedicated charging containers whilst in long-term storage including variable environment parameters according to customer demand

solutions supporting a wide range of battery types and modules in the automotive industry including, battery-powered electric vehicle (BEV), hybrid electric vehicle (HEV), and plug-in hybrid electric vehicle (PHEV) as well as solar and other high-voltage systems 

bespoke OEM solutions and collaboration with OEM battery engineering teams

specialist global governance, compliance and regulatory support including

the latest IATA air freight, ADR road freight and IMDG sea freight regulations
Richard Hankinson, Automotive Strategy & Business Development Director, Unipart Logistics said:
"It is becoming more and more critical to ensure that the aftermarket service provided to end customers of EV vehicles is not only highly responsive, but equally is sustainable, safe and cost effective for these large and complex batteries. By 2030 – new purely petrol and diesel vehicles can't be sold in the UK, which is why we have invested time, money and research into developing an end to end solution that supports our existing and future customers with their dynamic EV supply chain needs."
Find out more about the new EV battery supply chain services via the new website or click here to talk to our electrification specialist about your EV supply chain requirements.