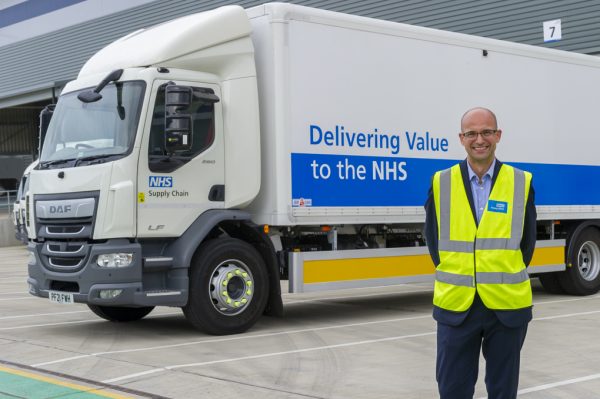 October 2021 – NHS Supply Chain's logistics provider, Unipart Logistics, is enhancing its fleet of sustainable vehicles across the UK with the aim of creating a long-term carbon neutral fleet.
The new environmentally friendly vehicles offer the lowest level of carbon emissions to date and are being rolled out for dedicated use within the NHS Supply Chain.
The new fleet is operating with lower emissions, allowing a CO2 reduction of 2.1 tonnes per vehicle per year. Additionally, the engines are HVO ready and can be run on Hydro treated vegetable oil. A significant proportion of the manufacturing of the fleet has been undertaken in the UK.
The sustainable vehicles are the latest addition to the NHS Supply Chain transport fleet, supporting a 200 strong final mile fleet delivering to NHS trusts.
Claire Salmon, Unipart Logistics Director for NHS Supply Chain, said: "We are delighted to introduce our new sustainable fleet of vehicles which are delivering to NHS trusts.
"We are evolving our entire fleet as part of our sustainability and carbon reduction commitments within Unipart, and as a provider to the NHS Supply Chain. The additional benefits of increasing fuel efficiency and having an HVO ready fleet, as well as introducing other safety specifications as standard truly demonstrates the 'delivering value to the NHS' brand on the fleet is more than just a logo."
Andrew New, CEO of NHS Supply Chain, stated: "As NHS Supply Chain, we are trusted by our stakeholders to deliver clinically assured, value for money products that meet the needs of our NHS colleagues and patients.    
"We deliver a critical service every day to NHS trusts and we have a responsibility to deliver this sustainably and with the upmost consideration to the impact on the environment.  This new fleet of vehicles is a small part of our overall plan to support the NHS mission to be carbon neutral by 2040.
"Working with our suppliers, service providers and trusts is critical to optimising our impact both today and for the future."
Lee Chambers, Distribution Director at Unipart Logistics added: "It's a really exciting time for Unipart Transport Services as we continue to scale and grow our offering. Sustainable fleet operations are an important part of our commitment to carbon reduction and we are proud to work with our customers to deliver against our collective goals in tackling climate change."
Read more about Unipart Logistics in the health sector.