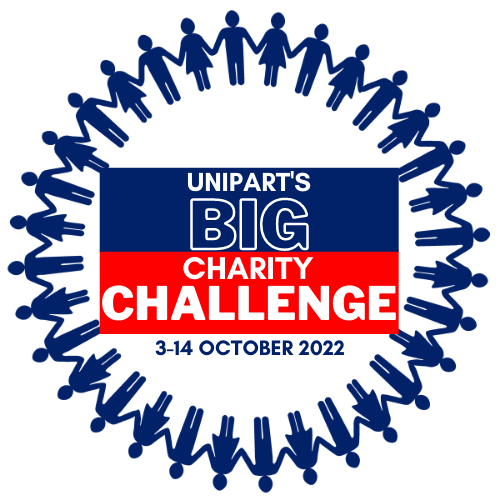 October 2022 – Unipart colleagues around the world are joining together this October to support the Group's first BIG Charity Challenge, raising money and awareness for Macmillan Cancer Support and Alzheimer's Society as well as a number of causes local to Unipart sites and communities. 
From Bake Offs to BBQ lunches, Tough Mudders to Coast to Coast Cycle challenges, quizzes, head-shaves, inter-site competitions and everything in-between, 80 sites and 8000 employees around the world are having fun and raising money together this year in a first for Unipart.
David McGorman, Managing Director Unipart Technologies Group said; "Every year Unipart people hold events to raise money as sites, teams and individuals and volunteer time to support many, many great causes. These activities bring people together and create an environment where fun, engagement and teamwork helps create a great place to work, and underpins our community approach to Responsible Business; to do well by doing good.
This year to build on this we've launched the BIG Unipart Charity Challenge for colleagues, customers, suppliers and partners around the world to come together and focus on engagement and fund-raising for two weeks to support two amazing charities voted for by employees – Macmillan Cancer Support & Alzheimer's Society –  as well as a number of causes local to the sites and communities we work within."

Anne Eaglesfield, Head of Corporate Business Development for Macmillan Cancer Support said; "Unipart has been such a great supporter of Macmillan and we are absolutely thrilled that colleagues have chosen to support Macmillan this year for their Big Charity Challenge to raise vital funds for charity.
Macmillan's support for people living with cancer is in more demand than ever and we rely almost entirely on public donations to make a difference, so fundraising events like this are so important to us. We know how cancer can affect every aspect of life, and we're here to help everyone with cancer live life as fully as they can, but we can't do it without our amazing fundraisers.  
We are so grateful to Unipart for taking on this amazing challenge and their dedication to raising money that will allow us to continue to do whatever it takes for people living with cancer."
Siobhan Nugent, Head of Regional Engagement for Alzheimer's Society said; "We're in awe of Unipart Group for the their incredible fundraising efforts and are so grateful to be on of their chosen charities this year.  
 "900,000 people are living with dementia in the UK and too many are facing it alone. We support people affected by all types of dementia through some of the hardest and most frightening times. Whoever you are, whatever you're going through, you can turn to us for practical advice, emotional support, and guidance.
 "Our amazing supporters and fundraisers, like Unipart Group go above and beyond to raise vital funds and awareness for people living with dementia. With their continued support we can help more people and use cutting edge research and influencing to push for breakthroughs that'll changes the lives of people affected by dementia, now and in the future."
MacMillan Cancer Support & Alzheimer's Society were voted by Unipart colleagues to benefit from this year's BIG Charity Challenge fundraising. 
To support Unipart's BIG Charity Challenge visit the event GoFundMe page