Digital Twinning has been used in recent months to support the NHS Supply Chain network through unprecedented times.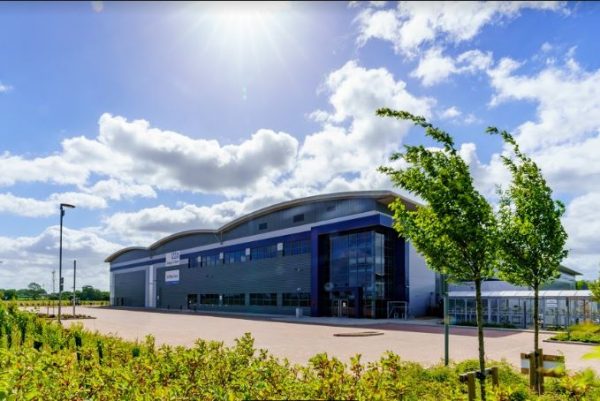 What is Digital Twinning?
Digital Twinning is the use of 3D video scanning equipment to create a digital representation of assets, which are manipulated on screen to simulate and optimise different real-life scenarios.
Digital Twinning in Supply Chain Management
Digital Twins were first used in automotive manufacturing, but the technology is now being used to improve efficiency and reduce costs in supply chain management. Unipart has invested in state-of-the-art scanning equipment and 3D modelling tools to develop digital twins of our warehouses across the UK.
These tools enable us to test different layouts and processes in virtual reality, and use the data generated to provide insight to help customers make the right decisions quickly, thus reducing risk, and ensuring cost-effective business continuity whatever the scenario.
Digital Twinning improves supply chain resilience by identifying and eradicating bottlenecks, optimising operational layouts, and fine-tuning resource planning. It is used to make safety improvements on site, and even to plan fast, reliable and cost-effective delivery routes.
Digital Twinning through Covid-19
During the Covid-19 pandemic, Digital Twins together with other digital technologies, helped Unipart Logistics manage spikes in demand for the core NHS Supply Chain network, as well as complete the build of a new distribution centre.
Prior to the pandemic, Unipart Logistics already had a network-wide Digital Twin within the NHS Supply Chain. However the scope of this was limited to both warehouse and transport processing capabilities, and the impact these had on our customers. The next step was to bring the in-depth visualisation of the warehouse to life, using digital not only to develop models, but to change them as required. This ability to adapt quickly to changing scenarios has been invaluable.
Avoiding travel through the use of Digital Twinning
With social distancing measures in place, Unipart is constantly seeking to minimise unnecessary travel and site visits. Safety is the number one priority across all of our sites. Unipart Logistics has recently been crowned overall country winner in the UK and Ireland in the British Safety Council 2020 International Safety Awards. To date, Unipart has won 55 Swords of Honour, more than any other company in our sector.
To support in reducing unnecessary travel and ensure ongoing social distancing, 3D Laser Scanning has proven beneficial, as it provides an exact representation of a building that can be accessed from any computer.
From a planning and design perspective, it is crucial to know exactly what space is available, how storage is configured, and where the main pieces of infrastructure are. All of this affects the way products are stored and moved through the site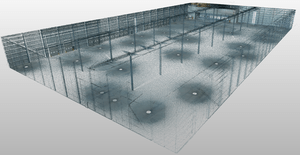 When designing the new NHS Supply Chain warehouse at Suffolk Park in Bury St Edmunds, Unipart captured a very precise (within 2mm) snapshot of the entire site in just one day. To restrict numerous visits to the site, Unipart used the Digital Twin of the site to check measurements and test countless different solutions remotely.
We also scanned the NHS Bridgwater site and will continue to roll it out across the NHS Supply Chain sites. Our expert solution design team are now supported by on site stakeholders who are being trained to optimise this technology. Unipart now model sites for capacity planning, testing designs of new solutions and equipment, organising virtual reality tours, training people, and visualising live operational data – all without actually travelling to the site.
Digital Twinning in NHS Supply Chain site, Bridgwater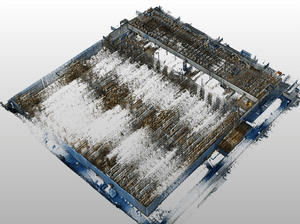 At the start of the pandemic, volumes at Unipart's NHS Supply Chain site in Bridgwater significantly increased. Using Unipart's digital toolbox, the site was agile in managing resourcing and stock allocation. Unipart has also used the technology to consider one way routes across site, minimising the risk of spreading the virus, whilst limiting the impact on productivity. The Digital Twin has enabled the team in Bridgwater to reduce the number of visitors on site by providing virtual tours with no risk of contamination.
Throughout the NHS Supply Chain, Unipart's digital philosophy is embedded throughout the operations. Our people are at the heart of driving this digital culture and at the forefront of highlighting opportunities for digital transformation.
Unipart has  an extensive range of digital capabilities that span Data Science, IoT and Sensors, Picking Solutions, Robotic Process Automation, 3D Scanning and Printing and Augmented and Virtual Reality technology groups. Having developed a range of products to drive efficiencies, such as Unipart's bespoke Warehouse Management System and advanced forecasting and visibility solutions.