Over recent years global issues including Covid-19, the war in Ukraine, ongoing Brexit complications, economic uncertainties and the world-wide sustainability challenge have caused major disruption to businesses supply chains.
This lack of certainty, product shortages, longer lead times for finished goods and declining customer experience can force companies to hold more inventory within the supply chain creating significant capital risk with cash tied up that could otherwise be invested in research, development and business growth.
It doesn't have to be like this and, by partnering with a logistics operator offering access to bonded warehouse solutions you can significantly reduce the time, cost and tax implications associated with operating in territories around the world.
China, where Unipart has operated for over 13 years has seen its economy continue to grow over recent years and, as the second largest global economy behind the US, it is fast evolving from a nation renowned as an innovator, manufacturer and exporter to becoming the first country to reach one billion people in its consumer class by 2026/27 who are older, more affluent, and concentrated in cities. (Source: World Data Pro, 2023)
The market is increasingly important for brands across all sectors, looking to counter declining sales in home markets by targeting a growing economy and rising consumer spending.
Although complex, the China market is important from both demand and supply perspectives and will continue to be a central feature in the future of many global supply chains.
Unipart China
Unipart has been operating out of the Shanghai Waigaoqiao Free Trade Zone (WGQ FTZ) since 2015 having opened a fully bonded warehouse in the region in close proximity to Yangshan Port as well as Pudong Airport.
In the FTZ we help customers transact between the bonded warehouse and their home country without feeling the cash impact of import duties or taxes until the goods leave the warehouse – by which time the item has been purchased, which is great for reducing business' cash liability.
One of the many key differences between bonded and non bonded warehousing is that bonded warehousing is often subject to greater levels of customs scrutiny and oversight.
Bonded warehousing can be complex with regulations differing from location to location, however, it has a place in certain supply chains and when used intelligently it can serve import, export and regional hub solutions effectively.
Bonded Warehouse Solutions
Bonded warehouse solutions offer a range of advantages, including improving cash flow, increased speed to market and enhanced financial operations.
Defer import taxes and duties until the product is ready for sale or further distribution. By deferring these upfront costs, companies can increase their operational efficiency, as they can allocate resources towards strategic initiatives that can accelerate their business growth.
Supply chain performance(efficiency); reduce time required for custom inspections and regulatory compliance checks. This can lead to faster order processing and shipment times enhancing customer experience and business performance.
Speed to market; bonded warehouses enable businesses to store their products closer to their primary markets, which can help them gain a competitive by reducing delivery times and increasing responsiveness to customer demands.
Financial performance; greater flexibility to manage inventory and cash flow.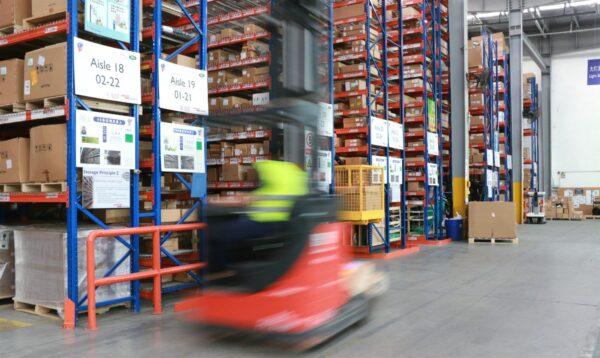 Bonded warehousing can also operate in reverse, allowing companies to utilise it for export purposes from markets such as China where a large local vendor base is able to ' export ' into a bonded zone, offering benefits to the vendor base also also enabling the logistics provider to hold inventory, consolidate and ship elsewhere
There is a growing range of hybrid solutions available in many markets that combine bonded and non bonded warehousing solutions under one roof enabling product to move into and out of markets, whilst streamlining import times and serving same day delivery solutions for B2C supply chains.
Unipart Logistics has significant experience combining bonded warehousing solutions to manage regional distribution centres where client product is stored in a bonded facility, inventory and operating costs are leveraged and product is then distributed to multiple markets across the Asia Pacific (APAC) region with the benefit for the customer of significantly shorter lead times than would be the case if product originated from Europe.
A simple example being for Company A that supplies APAC markets from Europe and the US via sea and air freight.
Via a Unipart managed APAC bonded warehouse, is now able to consolidate freight shipments from origin into the warehouse, hold all APAC inventory in a single site, avoid host country import duty and tax, receive orders from the APAC region and, subsequently, supply from a shared inventory pool into markets such as Japan and South Korea in days rather than multi week sailings from Europe and the US.
We operate bonded warehouse solutions in the APAC and Middle East & North Africa (MENA) regions delivering bonded and non-bonded warehouse and supply chain services for organisations looking to navigate the complexities and realise the benefits of operating in these regions.
Contact Ada Chen (ada.chen@unipart.com) to learn more about working with Unipart.