Unipart transforms customer's operations
To many people, keeping connected has been a lifeline during this Coronavirus crisis. Three Mobile (Three) is one of the UK's leading mobile telecommunications and internet service providers who have been going the extra mile to keep their customers connected, enabling them to purchase food, receive critical information and stay in touch with loved ones.
Unipart Logistics (Unipart) has a well-established track record of working with the best companies in the sector. During the crisis, Unipart has kept vital products and services flowing to our customer's customers using the safest processes and the best technologies to deliver outstanding customer service even in the most difficult times.
Unipart has partnered Three since 2003 and on any typical day, Unipart provides Three with forward logistics services to all of Three's 320 Retail Stores as well as direct to customer deliveries and delivery to businesses and wholesale customers.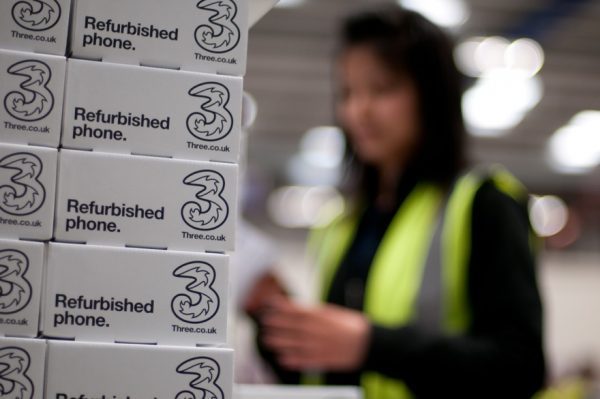 Actions taken by governments across the world resulted in Three's Contact Centre in Mumbai closing down and the closure of all Three stores in the UK in support of the social distancing effort.
Closing the call centre and stores meant that Three needed to be creative to ensure they could continue to provide great service to their customers who needed help and support, Unipart and Three put together an immediate response.
The ambitious plan involved recalling all stock from each of the 320 stores in four days as well as supporting in the set-up of a temporary customer care function and delivering laptops to retail store agents who were now working from home. The scale of the project in the timeframe was unprecedented, all whilst still maintaining regular next day supply chain operations to Three customers
By collating resources across the business, Unipart's operational and distribution teams were able to quickly react, locating and managing the delivery of over 2,400 totes. This included back to back days of same day carriers and changes to schedules, all while providing Three with constant updates and complete visibility.
By day 3, Unipart had successfully collected, processed and re-distributed approximately 500 laptops which enabled Three store staff to be up and running as call centre agents, supporting customer queries and managing upgrade orders.
 "A truly amazing effort from the team in one of the most difficult weeks imaginable. Heartfelt thanks for all of your efforts guys, they really are hugely appreciated". – Dan Halsey, Three Head of Supply Chain

 "Unipart has shown some exceptional partnership with Three. Not only have they helped our customers stay connected by continuing to fulfil next day deliveries 100% of the times but when we needed support to manage stock out of stores when our Retail estate shut down, they were there. Not only that, we've enabled our Retail staff to chat to customers while working remotely when our contact centres shut down and we wouldn't have managed that without Unipart helping us get essential equipment to them. I can't thank you guys enough for your support!" – Payal Rawat, Three Director of Channel Operations 

"I wanted to pass on my thanks for the amazing work performed by Unipart. None of this would have been possible without the passion shown by every member of the team in this past week. The excellent work Unipart has done on its business continuity planning is obvious to see as we rise to the current challenge together. Thanks again for your continued efforts on our behalf" – Kevin Ralph, Three Senior Manager, Supply Chain Operations