Gender Pay Report – year to April 2021
At Unipart Group we have long recognised a workforce which is diverse, gender-balanced, healthy, and engaged is key to our ongoing success. The sectors in which we operate have historically attracted and employed more men than women, and we are aware of the challenges of achieving a gender-balanced workforce in this context.
For many years we have sought ways to reduce our pay gap through tackling the root causes of the gender pay divide; encouraging more women to join our businesses, having effective and inclusive talent pipelines, and engaging with community partners to promote the study of STEM subjects amongst girls and young women.
Our approach has resulted in our most senior leadership team comprising a number of women in key operational, commercial, and governance roles which gives us confidence that it will result in continued longer-term improvements.
For the 2020-2021 reporting period our median gender pay gap varies across our businesses from 5.4% to 8.6%, as compared with the national average of 15.4% (Office of National Statistics 2021, Gender pay gap for full and part time workers). 
The 2020-2021 reporting period saw the whole world tackling the Covid-19 pandemic. It is widely acknowledged globally, as well as in the UK, women have been disproportionately negatively impacted by the economic and social impacts of Covid. Women were more likely to be furloughed and spent significantly more time than men on unpaid household work and childcare (ONS report: March 2021); and whilst the latter is outside the sphere of influence for employers it undoubtedly has an impact on the working lives of women and, potentially, their progression in the workplace. At Unipart we are mindful of this and whilst we have not yet seen this disproportionate impact reflected in our business we remain vigilant and are continuing with our programmes to attract and develop women in our business.
We know that, if we are to continue to be successful and meet the huge challenges that the world is currently experiencing and that lie ahead of us all, we need to attract, develop and retain talent that reflects the diversity of society as a whole. To this end, we remain committed to our policies and programmes aimed at achieving a balanced and diverse workforce where everyone is encouraged to do their very best work every day, and has an equal opportunity to be great.
An overview of our pay and bonus gap
As a group of companies, under the new regulations we are required to report separately on each of our legal entities with at least 250 employers – we currently have two such entities as listed below.
Unipart Group Ltd
Difference in pay and bonus between men and women
| | | |
| --- | --- | --- |
| | Mean | Median |
| Hourly pay | 3.93% | 5.04% |
| Bonus | 0.71% | 8.04% |
Distribution of employees across our pay quartiles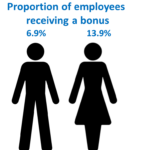 Unipart Rail Ltd
Difference in pay and bonus between men and women
| | | |
| --- | --- | --- |
| | Mean | Median |
| Hourly pay | 8.59% | 8.06% |
| Bonus | 61.91% | 23.59% |
Distribution of employees across our pay quartiles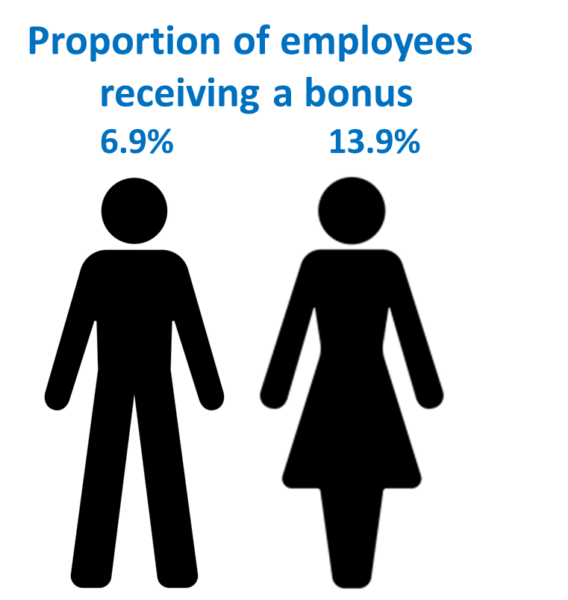 Understanding our gender pay gap
To understand our gender pay gap it's important to understand our history and growth as an organisation, as well as the trends and challenges of the specific sectors in which we operate.
Unipart Group is a privately-owned company with origins in the automotive sector; latterly expanding into rail and manufacturing. All of these sectors have traditionally attracted more male employees and this is reflected in the composition of our workforce which has a 7:3 male to female ratio. This ratio has been stubbornly consistent over the past several years despite our efforts to attract and retain more women. We will therefore be reviewing our programmes and activities in this regard. 
In addition to this, as an organisation we have generally experienced very low levels of turnover at a senior level. Such low turnover is important to our organisation which invests heavily in the training and long-term development of people, particularly in The Unipart Way (a system which defines our philosophy and way of working); however it also means our plans and activities aimed at increasing diversity at a senior level will take time to deliver results.
Furthermore, we frequently face significant changes in the composition of our workforce over which we have limited control, as a consequence of TUPE transfers in and out of our business that result from business changes. In the 2017-18 reporting period we experienced a particularly significant series of changes of this nature which saw a 30% change in our composition; and during the 2018-19 period we saw the workforce in our largest division almost double in size. During our most recent reporting periods (2019-20, 2020-2021) our business composition has been relatively stable, albeit we have been responding to the challenges presented by the Covid pandemic.
Closing the gap
Encouraging women across generations into STEM careers
At Unipart we have a long established strategy to 'Encourage young people into adopting careers in Logistics and Manufacturing' based on our realisation that, if we are to secure the resources we need to sustain and grow our businesses, we need to take a proactive role in working with and supporting schools and colleges to develop the industry-ready employees of the future.
Our strategy has evolved over a 10-year period and includes programmes to address students aged 10 and upwards, and covering all abilities and backgrounds. Programmes at the younger end of the spectrum focus on raising awareness of how what they are learning in school can be applied to real jobs in manufacturing and logistics. These community programmes are aimed equally at boys and girls, albeit in recent years our manufacturing business elected to work with an all-girls' school on 'Go4Set', a 10-week STEM project for students aged between 12-14 years that forms part of the Industrial Cadets programme. 
Levels of engagement in the work carried out in our operational sites increases as the age of the students involved rises, culminating in students using their skills to solve real-life engineering problems in the Institute for Advanced Manufacturing and Engineering, our unique collaboration with Coventry University. 
In addition the Rail division became a signatory to The Railway Industry Association Equality, Diversity and Inclusion Charter. To support this commitment Unipart Rail are participating in the Women in Rail mentor programme. The programme encourages organisations to address and support all levels of diversity.
Recruitment
Increasing the number of women joining our business is key to reducing our gender pay gap over the long term. Over recent years we have continued to review our recruitment practices to better understand the applicant profile and enable us to increase the diversity of this profile.
Steps taken include:
Changing imagery used in campaigns to reflect the diverse nature of our existing workforce

Considering the targeting of advertising to ensure we reach out to diverse a range of applicants as possible

Reviewing criteria for roles, particularly in operational areas, to ensure we are not inadvertently deterring women from submitting applications

Deploying technology to highlight gender-biased language in our advertisements and suggest gender-neutral alternatives.

Only using assessment tools and methods from reputable and British Psychological Society accredited sources and taking care to deploy these tools as required for specific roles – rather than simply across the board.

Requiring all those who are regularly involved in recruitment decisions (particularly within the HR Function) to undergo Diversity and Inclusion training which aims to remove unconscious bias from our recruitment processes.
We continue to seek feedback from candidates and recruitment partners to enable us to challenge ourselves and make changes to our recruitment practices where we believe it will impact the gender balance and broader diversity of applicants.
Inclusive talent pipelines
We recognise if we are to close our gender pay gap we need more women in our talent development pipelines as well as in senior roles. Our commitment to people development applies across our entire workforce at all levels and we have created an employee development philosophy which we call 'Gate to Great'. This enables each employee to reach his or her full potential at a rate of learning matched to his or her experience and abilities, and is based on the premise that, with deliberate practice within a designed system, we all have the potential to be great.
All employees within the business have 'Gate to Great' development plans (called their Gate to Great Journey) appropriate to their role and aspirations. 
Nowhere is this better demonstrated than through our suite of standard development programmes which include:
Developing Team Leader Programme – operational colleagues developing towards Team Leader roles

Management Gate to Great – all team Leaders and Operations Managers, functional leaders at junior to middle management level

Leadership Gate to Great – leadership development programme for more senior leaders.
We have specific programmes aimed at developing our talent and future leaders including career mapping coaching and development to prepare them for their next likely move.
In addition to these programmes we offer apprenticeships across a range of disciplines including finance, human resources, business improvement techniques, leadership and management, digital, business administration, and customer services. 
We have also embraced the Government 'Kickstart' scheme which aims to help young people, who have been particularly badly impacted by the Covid-19 pandemic, by providing them with meaningful work experiences. The gender balance of our cohorts of 'Kickstarters' has been almost 50:50; however the gender of those who have been offered roles at the end of the scheme has favoured the male 'Kickstarters' most of whom had placements in IT. This further reinforces the need to encourage women and girls to consider careers in areas such as IT which is typically at the high end of the pay spectrum and where the UK is experiencing skills shortages.
Flexible working and family friendly policies
The root causes of the gender pay gap are numerous and challenging. 
One of these root causes is the disparity between the caring and domestic responsibilities of men and women outside work – with women bearing significantly more of the burden of these. As an employer, one of the things that we can do to help address this imbalance is to make it as easy as possible for women AND men to balance the challenges of family life with work; in particular after the birth or adoption of a child, or when faced with caring for older relatives or those with long-term health conditions.
We have a long established suite of 'family friendly' policies that enables both men and women to request working patterns and arrangements that enable them to meet the demands of their home life alongside their role in Unipart. These policies are a strong retention tool and make a significant contribution to improving retention of valuable skills across our organisation. 
As a result of the pandemic, the vast majority of our office-based colleagues found themselves working at home. Alongside the many challenges that this presented, many colleagues also noted some significant benefits; particularly in relation to balancing their home and work responsibilities. As part of our ongoing Wellbeing strategy we undertook several 'pulse check' surveys to understand how colleagues working at home were coping and the output revealed an overwhelming desire to continue spending some of the working week at home to retain some of those positive impacts. As an organisation, we also recognise the significant benefits that are gained from colleagues working together face to face, from the positive impact of social interaction and camaraderie to enhanced creativity and innovation. As a result we have launched a 'Blended Working' policy so those colleagues who are able to do so can combine working at home with working in the office. We will carefully monitor how this policy is adopted and its impact on inclusion and progression generally and specifically in relation to any differences between our male and female colleagues.
Conclusion
As a responsible business we recognise our critical role in eliminating the gender pay gap. 
The insights we gain from our pay gap reporting help us to evolve our programmes, albeit we accept that it will take time for the impact of these programmes to reflect in our pay gap numbers, particularly in light of the very variable nature of our workforce composition.  
We're clear on the benefits of a gender-balanced workforce and gender-balanced leadership teams, and have never believed in appointing women for the purpose of 'ticking a box' or achieving a quota. We remain absolutely focused on encouraging more women to apply for jobs in our businesses at all levels and having inclusive talent development pipelines to help address the gender imbalance at the most senior levels of our organisation. 
John M Neill
Chairman and Group Chief Executive
Unipart Group