Kelly Pepper won the Supply Chain Award Above & Beyond category.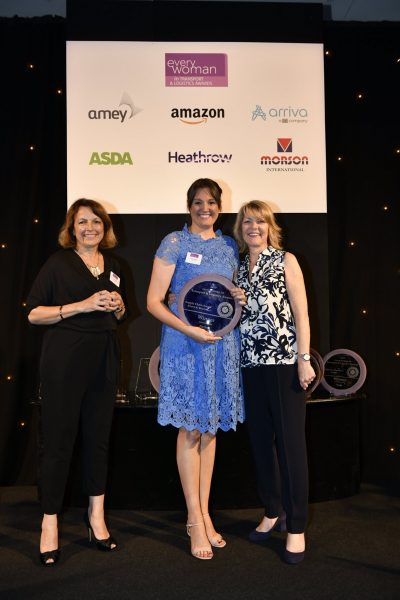 Unipart Rail Head of Business Development Kelly Pepper was one of 14 winners at the annual everywoman Transport & Logistics Awards on Thursday (13 June).
As an award winner, Kelly was not only being recognised for the positive contribution to Unipart Rail, but also supporting and mentoring the next generation of talent.
Over a three-year period, Kelly led her team and built external relationships to increase sales for her business unit by 35 times. Her credibility in the marketplace led to Unipart Rail being highly commended at the Railway Industry Innovation Awards.
As an example of her contribution, when a major customer went into administration Kelly worked extremely closely with the customer to secure continuity of their supply chain and ensure their projects avoided failure.
Kelly coaches other women in the business, is always ready to recognise achievement and consistently finds ways to provide support to her team. She successfully balances her role and its extensive travel with her home life raising two children.
Unipart Rail Managing Director of supply chain solutions Karen Beardsley was shortlisted in the Supply Chain Award Leader category.
Everywoman is one of the UK's largest networks for women in business which for 12 years has championed women in the transport and logistics industries, showcasing and celebrating the sectors' most exceptional role models.
Unipart Rail Managing Director Noel Travers said: "Congratulations to Kelly Pepper on her everywoman Transport & Logistics Award, which not only recognises Kelly's tremendous commercial success but also her excellent relationship building skills both with her colleagues and with clients.
"Kelly winning this award, and Karen Beardsley getting shortlisted, demonstrates our commitment to developing and rewarding our talent irrespective of their gender. Unipart Rail is a workplace where anyone can build a fantastic career and enjoy a good work life balance."
Maxine Benson MBE, Co-Founder of everywoman, comments: "This year has presented a new wave of exceptional talent and impressive career success stories with both genders making immense contributions to the transport and logistics industries. It has been proven time and again that gender diverse teams make better business decisions[1], which is why introducing more female talent to a male-dominated industry is so essential. The collaboration of ideas, fusion of knowledge and cross-pollination of skills is what is needed for the growth of any business."