July 2022 – Unipart Rail has formed a new partnership with Gripple and together they are bringing a revolutionary new innovation to the rail industry – the Gripple Rail Dropper.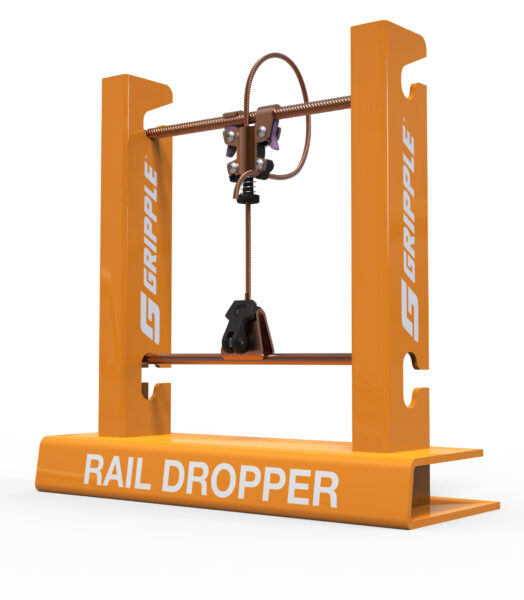 By using the new fail-safe and tool free Gripple Rail Dropper, Overhead Line (OL) installations can be completely streamlined so that fully conductive catenary droppers can be installed up to 8 times faster than traditional rail cable droppers.
The unique Gripple catenary hanger design enables the quick and easy installation of each dropper, which can then be adjusted left and right along the messenger wire in seconds, using the lockable release cams. This rapidly increases the speed and efficiency of both installation and repair, reducing time spent working at height, therefore reducing overall safety risks.
Established in 1989, Gripple has grown to be recognised globally as the world-leading manufacturer of wire joining and tensioning systems, delivering innovative suspension systems across a variety of sectors including construction, geotechnics, agriculture, and seismic/blast protection.
The launch of the new highly anticipated Gripple Rail Dropper marks their first steps in the rail sector, however, their engineers have been designing and manufacturing innovative solutions for overhead suspension since 1998, and offer a wide range of hangers including a robust line of tensionable catenary systems and "droppers" which share many similarities with the Rail Dropper system.
By working in collaboration with Unipart Rail and utilising their expertise and wealth of knowledge in the global rail sector, Gripple are looking to apply the same technology and engineering expertise which has allowed them to transform the building services suspension market to rail OLE systems. Improving safety, installation speeds and efficiency.
The new Gripple Rail Dropper, which will be officially launched in September, has been designed and manufactured to the highest standards by UK factories working towards carbon neutrality by 2023.
In addition to the new Gripple Rail Dropper, we are also working on a wider range of future innovations and solutions for OLE, designed to increase efficiency and save time, labour and costs.
Jake Rudham, Marketing and New Products Director Unipart Rail, commented: "Unipart Rail is delighted to be working in partnership with Gripple and to support them on their journey into the rail sector by becoming their distribution partner for the new Rail Dropper, which will deliver time, labour and cost savings across the industry."
"Driving and delivering innovation is at the forefront of both of our businesses and we are excited to be working together on this new innovation, which will change the face of OLE installation."
John Butterworth, Head of Infrastructure Products Gripple, commented: "As the world-leading manufacturer of wire joining and tensioning systems, we are excited to bring our latest innovation to the Rail industry in partnership with Unipart Rail. Delivering time-saving, simple, problem-solving innovation to customers worldwide is in our DNA, so we look forward to the launch of our innovative Gripple Rail Dropper to deliver health and safety, time and cost improvements to new customers in the area of OLE installation."
The video below shows how the new Gripple Rail Dropper outperformed traditional methods when tested on-site with Network Rail recently.