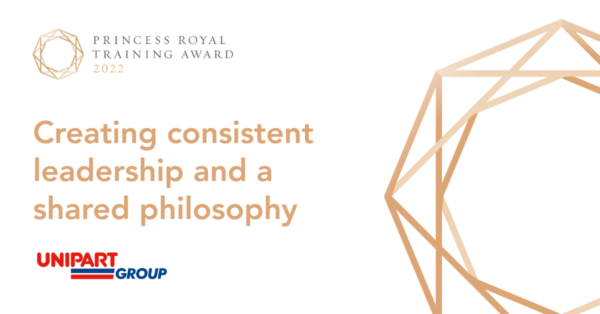 August 2022 – Unipart has secured a Princess Royal Training Award for outstanding workplace training for the fourth year in a row.
Her Royal Highness Princess Anne, who is also the president of the City and Guilds Group, formally recognises employers who run best-in-class training and skills development programmes, which deliver quantifiable improvements for their business and colleagues.
This year, Unipart was recognised for the continued development of our Manager Gate to Great training, and how it has increased the capability of 270 Unipart team leaders and managers, as the company has grown over the last three years.
Central to the Gate to Great journey is mastery of The Unipart Way, Unipart's philosophy of working, underpinned by a set of principles, systems, tools and techniques that deliver exceptional levels of operational performance.
The Gate to Great journey is key to Unipart's strategy, supporting business growth and ensuring talented people are developed to lead consistently using The Unipart Way across all sites and business areas.
Unipart was among 46 UK organisations to receive the award, with names including IBM, Lloyds Banking Group, and JCB. Visit the website to find out more. 
Vicki Hooper, Unipart Logistics HR Director and Group Capability Director, said: "It is a credit to the hard work of the entire capability team that we have won this award for the fourth time in 2022.
"We have all had to adapt to the change to remote working as a result of the pandemic, and the team has worked tirelessly to develop these programmes during that time. The move to more online learning has made these programmes more accessible and means we can scale and develop even more leaders, as we grow in the future."