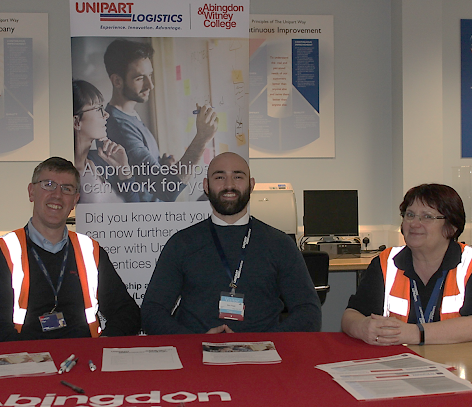 Unipart Logistics colleagues have been finding out how they can develop their capability, achieve a recognised qualification and potentially further their Unipart career through an apprenticeship.
UL Head of Capability Delivery Denny Sharman said, "We're delighted to be able to introduce two new apprenticeship programmes within our operations to help us to develop our capability from within. In Unipart Logistics we value the skills, knowledge and capability of our people and we recognise that we need talented people in order to continue to grow as a business."
"We are partnering with Abingdon & Witney College to provide the new programmes, and UL's Capability Delivery team have all been working hard to achieve their assessor qualifications so that we will be able to deliver and assess our L3 and L2 apprenticeships internally."
"Through an apprenticeship colleagues can combine work and study by mixing on-the-job training with classroom learning. Apprentices will follow an approved study programme designed around their role, and will be supported by Abingdon & Witney College and the Capability Delivery team."
"In Unipart our principles outline our commitment to developing our people and taking a long term view, demonstrated by our Unipart Gate to Great Programmes and Management Accreditation Programme. We truly believe that investing in, and supporting colleagues with their personal development is a key driver for higher levels of employee engagement. This leads to higher levels of productivity and innovation that is essential for our future growth."
Unipart Logistics is also looking for the next generation of leaders and CI Practitioners and has launched two nationally recognised apprenticeship programmes:
Leadership and Management Diploma (Level 3)
This is an 18 month programme for aspiring and new Team Leaders (who have been in the role less than six months)
Business Improvement Techniques (Level 2)
This 12 month programme is for colleagues who are interested in developing their Unipart Way skills to become a 'practitioner in the line'.
Those who complete the programme will receive an externally recognised qualification.
The UL team have held a number of drop in sessions in Nuneaton, Magna Park, Baginton, and Honeybourne for colleagues to find out more and ask questions about the programmes, and to formally express interest. The roadshow is due to visit Burton in early April.