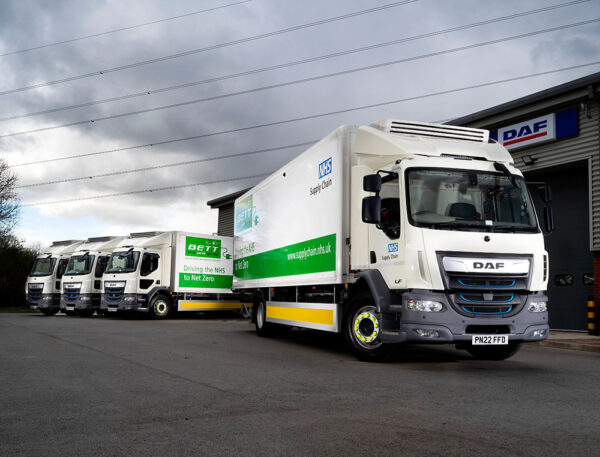 June 2022 – Unipart Logistics is further underlining its commitment to developing sustainable fleet operations and driving down environmental impact by supporting NHS Supply Chain with the introduction of eight fully electric trucks. 
The initiative is part of the Department for Transport's £10m Battery Electric Truck Trail (BETT), a 12-month pilot project which is seeing 20 DAF LF Electric trucks using pioneering technology entering service with the NHS and local authorities.
In partnership with NHS Supply Chain Unipart Logistics is commencing use of eight 19 tonne LF Electric rigids with refrigerated bodies at four locations across the country: Bury St Edmunds, Normanton, Rugby and Alfreton. It will feed back real time performance data for the zero emission vehicles.
Claire Salmon, Unipart Logistics NHS Supply Chain Director, said: "We are excited to be working with our customer NHS Supply Chain to run the Battery Electric Truck Trial, which also supports the Unipart UN Race To Zero commitment to be carbon neutral by 2030 and net zero by 2050. The trial will provide us with valuable insight into operating fully-electric vehicles of this size as part of our fleet, so we can understand how best to facilitate a charging network, driver training and the potential to grow this technology in the future. We are committed to delivering a safe and sustainable service in support of our frontline care customers."
NHS Supply Chain's Director of Supply Chain Chris Holmes said: "It is really exciting to be part of one of the largest and most significant deployments of zero emission heavy goods vehicles in the UK to date. Everything on our zero emission vehicles is electric, even the refrigeration units. 
"Driving down our carbon emissions is one of our top priorities and this is just one of the ways we're supporting the NHS to achieve their net zero target by 2045, which has wide ranging health benefits for us all, not least around air quality."
In September 2021, Unipart announced the introduction of a more sustainable transport fleet across the NHS Supply Chain network. The new hydro-treated vegetable oil-ready (HVO-ready) fleet cut CO2 emissions by 2.1 tonnes a year from final-mile delivery in the NHS Supply Chain. 
Sustainable fleet operations are an important part of Unipart Logistics' commitment to carbon reduction and its work with customers to deliver against collective goals to tackling climate change.
The BETT focuses on vehicles, charging infrastructure, user training, repair and maintenance, and total-cost-of- ownership, providing operational insight across a variety of duty cycles. It is part of the Government's wider £20m zero emission road freight trials and is delivered using the Small Business Research Initiative (SBRI), a process bringing together government challenges and ideas from business to create innovative solutions.