May 2022 – The Institute for Advanced Manufacturing and Engineering (AME), Unipart's collaboration with Coventry University, offers BEng and MEng Manufacturing and Engineering students the opportunity to learn in a 'live' industry environment. 
AME student Titus Adarkwa enrolled on the course in challenging conditions back in September 2020, when lectures were no longer face to face and businesses were mostly on lockdown. Titus came to Coventry to find out more about studying physics. 
Following a discussion with the course director, Titus was introduced to how unique the AME course is and how it fits with his interests. The degree is based on the Unipart Manufacturing site with a range of theoretical and practical elements all linked to real manufacturing challenges. Learning modules are developed to look into Unipart's challenges, working directly with the engineers as the hosts. Students are also offered the opportunity to apply for summer placements to further their development in the live environment. 
Last summer, Titus took a placement onsite with the Quality team in Unipart Powertrain Applications (UPA). The project was to identify and resolve a process issue. Titus Adarkwa explained: "I was asked to work closely with the quality engineers to observe the high-level technology used to conduct quality checks and propose a new process to replace the current manual collation and data sorting. For example, in an upcoming fuel tank project, a member of the team would have to manually transfer over 400 data samples." 
Titus was introduced to the Unipart Digital team to get a further understanding of the tools available to help with the project. He said: "Together, we created a code that was able to scan whatever type of process, like a 3D scanner or the RoNA arm, take that data, collate it, analyse it, place it all into one document, and get it ready for reporting. Rolling out that process has reduced the time of the operation as a whole, I also got to present it to the leadership team."
During his placement, Titus worked alongside Digital and Innovation Manager Hosein Torabmostaedi looking at new and innovative ways of developing wider capabilities of batteries within Hyperbat, Unipart's joint venture to manufacture electric vehicle batteries.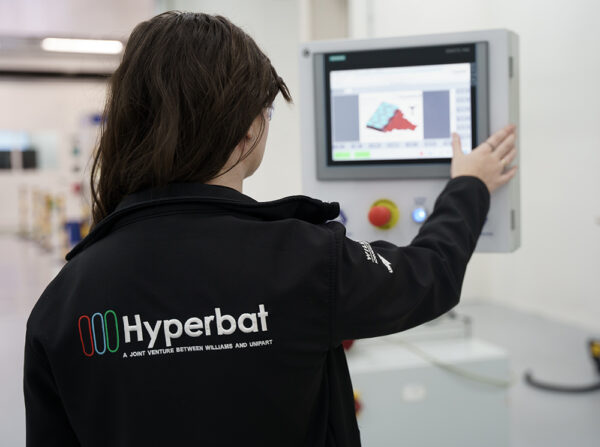 Titus said: "Hosein challenged me to come up with ideas to research what capabilities would be needed to manufacture the ultimate battery. This was an exciting project for me, as I could look at the idea of a battery that could be used for multiple applications at the same time as its original purpose. We looked at possibilities such as if you make a battery that you would take on your camping trip but can also power your e-scooter or your car. We are researching further use of batteries, their characteristics and how far we can stretch the application of just one battery.
"There's a sustainability angle here as well, as we're looking into creating one product, you don't want to continuously keep buying power banks and other things. We want to create something that has longevity. Also, we're looking into the materials and parts to ensure we can make them as sustainable, reusable, and recyclable as possible."
Now in his final year at the AME, Titus is currently enrolled in the MEng course. He said: "I want to give a huge thanks to Unipart for the wide variety of experiences I have been given during my time on live projects. Working with such an engaged team has been an integral part of the project and really given me a deep insight into how the business is looking at digital to make improvements and lead the way in battery manufacturing. I feel the experience has been invaluable to my development and value the time the team I have worked with have committed to helping me deliver these projects."
Vanessa Ball, Compliance Manager at UPA, said: "Working with Titus was a real pleasure, he was a breath of fresh air. Titus was enthusiastic, engaged with the project quickly, and had a genuine passion for working in manufacturing, applying problem-solving techniques. During his time at UPA he has made a valuable contribution, engaging with people throughout the business at all levels, which has helped our business to move forward with digital solutions."
Titus Adarkwa looks forward to taking on another placement with Unipart this summer.
To find out more about careers at Unipart Manufacturing Group email contact.umg@unipart.com.