Unipart Logistics and Sky removed more than 120 tonnes of single use plastic from supply chain as part of Sky Ocean Rescue.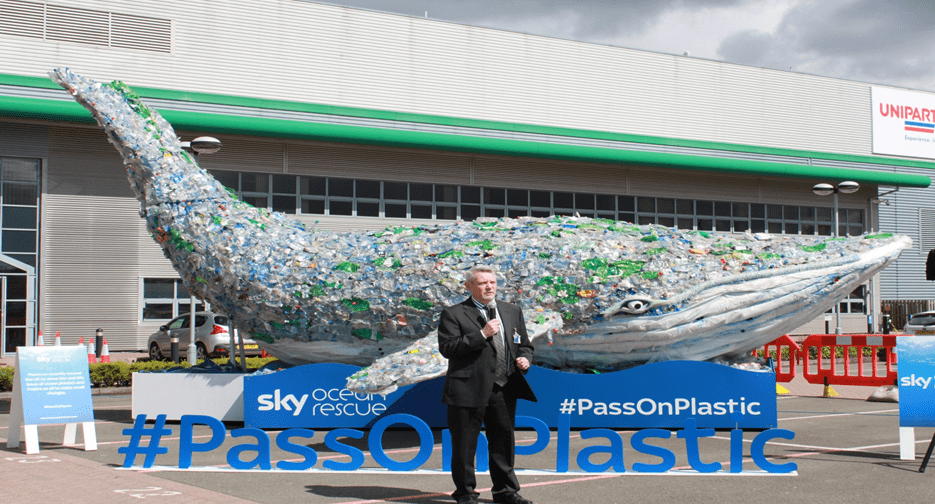 Background
Sky launched Ocean Rescue in July 2017 with the aim of shining a spotlight on the issues affecting ocean health and finding innovative solutions to the problem of ocean plastics, whilst inspiring people to make the small everyday changes that collectively make a difference.
It is estimated more than eight million metric tons of plastics end up in our oceans every year. As part of Sky Ocean Rescue, Sky made a commitment to remove all single use plastic out of their supply chain by 2020.
As Sky's supply chain partner of choice, Unipart Logistics was tasked with removing this plastic and identifying alternatives whilst remaining cost neutral.
Challenge
There are three main challenges associated with removing all single use plastics.
Cost – Plastic is significantly cheaper in comparison to alternatives that are currently available
Engagement – In order to completely change the way an operation works, first people need to change the way they think and acknowledge the impact plastic has on the world around us
Pallet wrap – At present there are no market alternatives to wrapping pallets that mirrors the use of plastic pallet wrap
Solution
Unipart set up innovation workshops to engage with all teams at all levels of the business, suppliers and Unipart's specialist environment teams. Workshop participants discussed ideas and innovative solutions to identify alternative packaging and drive efficiencies to pay for the additional costs. Solutions were then implemented across the entire operation.
Engineers' plastic bags were replaced with paper bags for stock shipments and reusables for waste returns. The well-known 'Jiffy Bags' were replaced with bespoke boxes with a dual seal to enable customers to return unwanted or faulty products, such as mobile handsets, set top boxes and routers. Customers' bubble-lined Jiffy Bags were replaced with environmentally-friendly green Jiffy Bags with paper padding.
On-site, paper tape and specialist, water-activated paper tape replaced traditional packaging Sellotape. Instead of pallet shrink wrapping, Unipart took on reusable Pallet Socks and versatile Pallet Lids to securely protect pallet loads. Cardboard pallet sleeves are also being trialled.
Results
In September 2017 there were 127 tonnes of single use plastic in the Sky supply chain operation. Today this has been reduced to just two tonnes, with further plans identified and innovation workshops ongoing to completely eradicate the use of single use plastic.
Fiona Ball, Head of Responsible Business at Sky, said: "With Sky Ocean Rescue, we wanted to highlight the issue of plastic in the oceans and show what changes are possible. Unipart Logistics have been a perfect partner for their enthusiasm and commitment to show logistics can avoid single-use plastics in a cost neutral way."