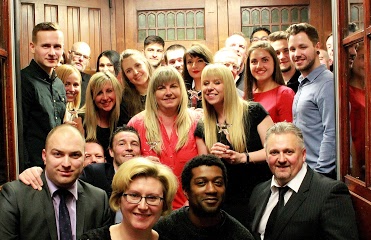 The UL Waterstones team in Burton celebrated the commitment and contribution of their colleagues by hosting the Burton 'GEMS' (Going the Extra Mile) Awards at Burton Town Hall.
At the glittering awards ceremony a total of eleven awards were presented to colleagues and teams who are outstanding examples of going above and beyond in all that they do. The event also celebrated ten years of working in partnership with Waterstones.
UL General Manager Katherine Skidmore explains, "The idea for the awards came from our Forum. Whilst we already nominate colleagues through formal processes like Mark in Action, the Forum wanted a way to recognise the many colleagues in our site who regularly contribute and perform above and beyond the call of duty.""The Forum suggested a local event where we could fundraise for a recently retired colleague who unfortunately is going through some financial difficulties. Through ticket sales for the event we raised an incredible £1,000."Awards were presented on the night by Katherine Skidmore, members of the UL senior management team and representatives from Waterstones, including awards for the UL employee of the year nominated by Waterstones and the Waterstones employee of the year, making it a true partnership event. Other award categories included innovation, digital, values, leadership and overall employee of the year. In total a staggering 124 nominations were recieved, making the judging incredibly difficult in each category.
The winner of the overall 'Employee of the Year' was Steve Thomas, a colleague from the Outbound team, who received a number of nominations from both his colleagues and managers.
Duncan Carter, Head of Outbound, explains, "Steve plays a crucial role in the team and is incredibly committed. He has not had the easiest time since joining the team three years ago, experiencing some personal tragedy, but has never asked for extended time off, and often stays on past the end of his shift to get the job finished. He takes true pride in all that he does, and is always on hand to help other colleagues. Steve is what I would describe as an unsung hero, and I cannot think of anyone else more deserving of the award. Congratulations Steve!"
Other award winners were Malgorzata Wyroslak and Victoria Copeman, Andy Atkins, the Batch Pick team, Aleksandra Kawa, the Stock & Stock Flow team, Jelena Semjonova, Marek Dura, Jon Watson, Steve Moore, and Sophia Davies. Well done to all the award winners and nominees!
 Mark Heard, Head of Inbound, commented, "I'd like to thank the Forum for all their hard work. Through the OCC process they managed the whole thing from start to finish, covering everything from the award categories to ordering the table cloths! They did an outstanding job and organised an impressive event which has received great feedback. Around 180 people attended on the night, including representation from Waterstones. The atmosphere was amazing and I've lost count of the amount of people who have come up to me to ask if we can do the same thing next year!"
Katherine Skidmore concludes, "Whilst we couldn't present awards to everyone on the night the event itself was a thank you to the whole team, who pull out all the stops on a daily basis to ensure we offer outstanding service for our customer. We will be sharing all the nominations with the team – I think it's important people know that their fellow colleagues took the time out to nominate them and the reasons why."
"We have been working hard with our Forum, the management team and our colleagues to build a high performing culture. Looking across at those 180 people on Friday night I couldn't have been prouder."