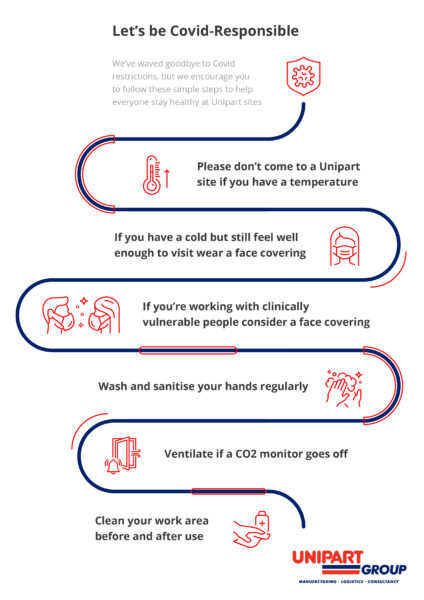 Covid-Responsible is how Unipart invites all employees and visitors to behave when on site.
Between March 2020 and March 2022, Unipart introduced a range of Covid-Secure measures to ensure the health and safety of employees and visitors to sites in line with Government guidance.
There is no longer a legal requirement for many Covid-Secure measures, but Unipart continues to encourage all employees and visitors to be Covid-Responsible.
In the interests of everyone's health and safety, when planning to attend or when on a Unipart site please consider:
wearing a face mask or covering in enclosed areas, where you are working with others who may be more vulnerable, or if you have a cough or cold (but are well enough to be in work)
avoiding access to a Unipart site if you have a temperature
regularly washing or sanitising your hands
cleaning your work area before and after use
leaving the site promptly if you begin to show Covid symptoms and feel unwell
ventilating an area if a CO2 monitor sounds.
Please be Covid-Responsible on Unipart site to help keep yourself, and our employees and visitors safe.