Claire Walters with the Cornwall Air Ambulance crew who saved her life
November 2021 – A partnership between Unipart Logistics and Air Ambulances UK has now raised a total of over £45,000 thanks to a team of six Unipart colleagues recently completing a gruelling 450km cycle ride between two air ambulance charity airbases.
The partnership came about as a result of a lifesaving mission to Unipart's Chief Commercial Officer, Claire Walters, who was critically injured in a cycling accident in Cornwall in 2019. Claire was in collision with a car while cycling which left her unconscious and critically injured with a collapsed lung, fractured skull, broken ribs, collarbone and vertebra, a dislocated knee, and facial injuries.
Cornwall Air Ambulance Trust attended within minutes, rapidly delivering lifesaving equipment and a specialist Critical Care Team to treat Claire at the roadside before airlifting her to hospital where she spent days in intensive care.
In November 2019, following a gruelling period of rehabilitation, Claire and a team of colleagues from Unipart Logistics remarkably completed the Thames 100, a four-day, 100-mile walk from the source of the River Thames in Gloucestershire to the Thames Barrier in London, raising over £23,500 in the process.
Last month, Claire and a team of colleagues from across the Unipart business completed an emotional and hilly 450km bike ride from the Wiltshire Air Ambulance airbase to the Cornwall Air Ambulance airbase to say thank you to the crew who saved her life, and to raise further essential funds Air Ambulances UK. Supported by customers, suppliers, colleagues, friends, and family, the latest challenge has already raised more than £21,500.
Claire Walters, Unipart Logistics Chief Commercial Officer, said: "Without the lifesaving mission from Cornwall Air Ambulance so quickly delivering advanced equipment and care, my situation may have turned out very differently. This year's challenge was a real journey for me, giving me the opportunity to thank the air ambulance crew who saved my life.
"Nobody ever leaves home expecting to have to rely on the expert medical services and critical care services provided by air ambulance charities. It costs in the region of £3,000 for every mission an air ambulance makes, so with the money we've raised so far we've helped to fund 15 lifesaving missions – that's 15 people who stand a better chance of survival.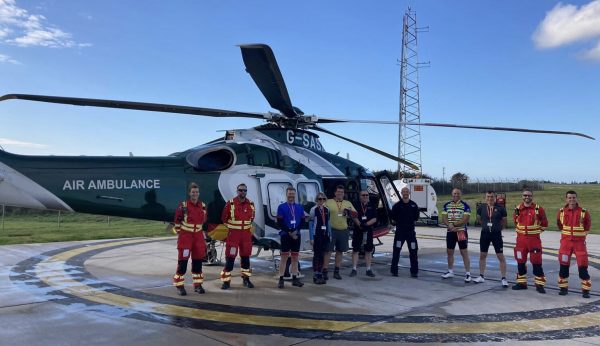 "I will be forever indebted to the lifesaving work of Cornwall Air Ambulance Trust and hope as many people as possible will help support the critical service the UK's 21 air ambulance charities provide nationwide every day." 

Simmy Akhtar, CEO of Air Ambulances UK, said: "We are incredibly grateful to the team at Unipart Logistics for undertaking this great challenge and raising such vital funds to support the lifesaving work of air ambulance charities across the UK.
"The story of Claire's survival is testament to the advanced lifesaving pre-hospital care air ambulance charities provide every day, giving people with a sudden life-threatening injury or medical emergency the best chance of survival and patient outcome."
Air ambulance charities rely almost entirely on donations and so support from business, individuals, and grant providers is vital in enabling them to continue their lifesaving work.
To support the Unipart and Air Ambulances UK partnership, please go to: https://justgiving.com/campaign/UnipartLogisticsChallenge2021
To find out more about the work of Air Ambulances UK, visit: https://www.airambulancesuk.org/