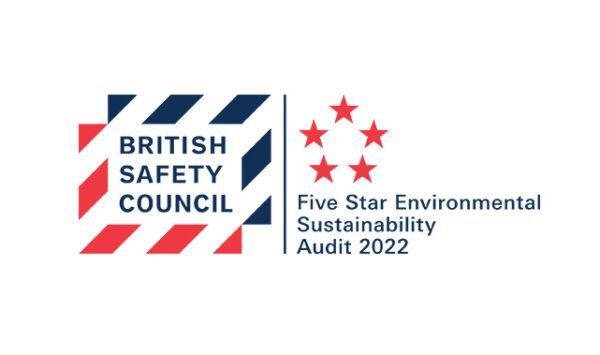 September 2022 – Unipart Logistics has achieved a five-star rating in the British Safety Council Environmental Sustainability audit for the 10th consecutive year.
The British Safety Council's Five Star Environmental Audit provides organisations with a worldwide benchmark of their environmental management performance, policies, processes and procedures against current best practice to enable continual improvement. 
Unipart Logistics surpassed the best-practice standard of 92% across all evaluation areas: continual improvement (94.3%), leadership and commitment (94.7%), stakeholder engagement (95.6%), risk management (95.4%), and supply chain management (94.2%).
The British Safety Council used updated audit criteria this year in recognition of the rapidly-evolving approach organisations must take to environmental sustainability. Unipart recorded a 100% score in 16 of the 49 individual elements assessed.
The auditor recognised Unipart's monitoring and measurement under the UN Race To Zero carbon elimination commitment, particularly for scope 1 (direct emissions) and scope 2 (emissions from purchased energy). Unipart is now focused on fully understanding its scope 3 emissions – those produced outside the company up and down its value chain.
Dr Keith Whitehead, British Safety Council Auditor, said: "Unipart Logistics has excellent standards, which are world leading in many areas. Top management sets the organisation's mission, vision and values, providing excellent commitment towards environmental sustainability improvements."
Andy Pyne, Unipart Group Chief Sustainability Officer, said: "Continually achieving such a high score in the British Safety Council Five Star Environmental Sustainability audit is testament to the work of our subject matter experts who have embedded robust environmental management systems into our business, but it is also due to the participation of everyone at Unipart who contributes to our unique culture through The Unipart Way. 
"Fighting climate change is everyone's responsibility, and I'm so pleased to see how engaged our customers and suppliers are in helping us to better understand how we can work together throughout the supply chain to achieve our UN Race To Zero carbon elimination targets."