6 July 2020 – MetLase, the joint venture between Rolls-Royce and Unipart, has produced a range of high-tech assembly stations which were used in ventilator production at the Rolls-Royce site in Bristol.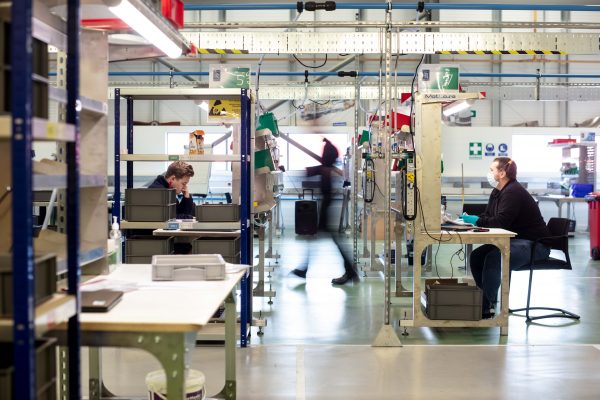 The site produced ventilators as part of the VentilatorChallengeUK consortium, in response to the government's call for additional ventilators for the NHS.
The Rolls-Royce facility in Filton, Bristol accommodates Defence and Civil Aerospace activities. A production line was built from scratch to assemble the Smiths Medical paraPAC Plus ventilator, which has been used by the NHS for more than a decade. 
Rolls-Royce teams built the new production lines from the ground up with highly exacting requirements and in time frames shorter than have ever been achieved before. New, purpose-built workstations for engineers were a critically important component in establishing the ventilator production lines, all while adhering to social distancing.
Metlase is a world leader in the design and manufacture of highly innovative fast make, precise smart tooling. Traditionally it would require about three weeks to design and deliver these workstations. MetLase delivered 72 process-specific manufacturing workstations in just 10 days.
Designed for the specific ventilator manufacturing process, the MetLase WorkStation allows for the high levels of productivity while also providing operator comfort and efficiency.
Each workstation will enable operators to build and test the individual elements of a ventilator. The workstations include parts storage, integrated lighting, and tool storage and positioning. The design of the workstation ensures all tools are to hand for the operators and that work instructions are ergonomically positioned for the operators to follow. 
An important element of the workstation is an innovative design feature that enables stocks of component parts to be delivered and stored on the workstation in a way that will comply with social distancing requirements.  
Steve Dunn, MetLase managing director said: "MetLase was formed by bringing together the strengths of two great British companies, Rolls-Royce and Unipart. MetLase has combined world-class engineering problem solving with extensive knowledge of manufacturing processes.
"Applying that pedigree to the call for rapid production of ventilators provided our customers with critically important tools that will enhance and speed their production capability. We're very pleased to be playing our part with the VentilatorChallengeUK consortium to help the NHS.
"The workstation project is a great example of how MetLase can help manufacturing companies adapt to quickly cope with new requirements to keep their people safe and help with any ramp-up as people get back to work."
About MetLase Ltd
MetLase, a joint venture between Rolls-Royce and Unipart, specialises in the manufacture of world-class engineering solutions with speed and precision.

Using unique patented methodologies, laser cutting, press-brake forming and in-house developed digital technologies, MetLase can design and produce simple and complex tooling, intelligent fixturing and components for a wide range of industries, bringing lead times of months down to hours or days.
For further information on MetLase contact 0114 383 0610 or visit  www.metlase.com.