The directors set out their section 172(1) statement in accordance with the Companies Act 2006 in relation to stakeholder engagement for the year ended 31 December 2021.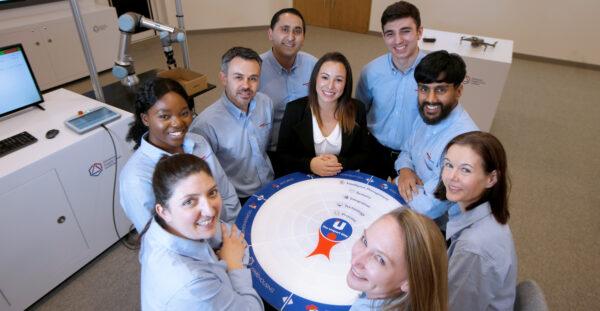 The Board recognises the long-term success of the Unipart Group is strongly correlated to a positive interaction with all its stakeholders. Effective engagement allows the Board to understand relevant stakeholder views on material issues which may impact the business and helps to inform the Board's decision making.
Stakeholder engagement is ultimately managed and owned by the Unipart Group Board Directors but takes place at all levels within the organisation.
At the heart of our engagement is The Unipart Way, which is led from the boardroom. Principle 4 of The Unipart Way, 'We manage with a long-term view', guides the Board's thinking, encouraging the adoption of strategic initiatives, rather than short-term gains. This includes the directors' engagement with each of its stakeholders.
Unipart's latest corporate responsibility strategy is published on our website and sets out how the Group plans to engage with its customers, suppliers, people, and communities in a mutually sustainable manner. We always aim to act fairly across all our stakeholders and create a longstanding reputation as a Group where people want to work, customers want to give us their business, and suppliers want to provide us their services, whilst at the same time ensuring the Group maintains the highest levels of ethical standards and support for its community and environment.
This report identifies some of our key stakeholders and explains how our businesses interact with them to promote the success of the Unipart Group for the stakeholders as a whole.
Employees
Employees are critical to the delivery of the Group's strategy and the future growth of the business. Through The Unipart Way, leaders empower each colleague throughout the business, encouraging each to solve problems at his or her own level. Through a wide range of training and development programmes, such as the Gate to Great journeys, we are able to develop our people so we can promote from within and provide long term and fulfilling careers across the Group.
The Mark In Action award ceremonies are held six times each year, even during the pandemic when they were held online, and celebrate our employees who have demonstrated outstanding customer service. Each one of these events have been led and presented by the Group Chief Executive for more than 30 years, with over 3,400 awards presented to date.
The directors also engage with employees in several formal and informal ways, including management brief newsletters, our in-house news programme, Grapevine, and the bi-annual Leadership Conference led by the Chairman and Group Chief Executive. In addition, the directors meet sector-specific operating committees on a regular basis and will frequently take the opportunity to engage with the employees on site visits. The Chairman and Group Chief Executive has hosted a series of digital philosophy and principles courses, which all employees have been invited to attend.
Employee engagement is a key metric for the Group, and the results from the annual employee engagement survey are fed back to the Group leadership team. The directors have supported the Group-wide employee wellbeing strategy Unipart WorkWell, which amongst other features provides free support to employees for personal health, financial, and counselling matters through LifeWorks.
Customers
The Board of directors supports our business by engaging with our future, new, and existing customers. We strive to develop enduring partnerships with our customers and drive continuous improvement and innovation into our operations to drive long-term relationships across each of our businesses. To achieve this, the directors take time to understand the real and perceived needs of our customers, which they do through actively maintaining close relationships and engaging in regular customer surveys and feedback programmes. Continuous improvement is at the heart of our operations, driving out waste and improving efficiencies for our customers.
Suppliers
The core of Unipart's business is managing complex supply chain solutions for our customers, therefore it is essential to work with our suppliers in an ethical manner. We engage closely with suppliers because we rely on them to provide us with products and services that meet our stringent quality and performance requirements, which in turn allows us to fulfil our commitments to our customers. This engagement will be at an operational level on a day-to-day basis to ensure that our expectations are met from a quality and delivery perspective, or at director level in relation for more strategic discussions. The Group has instilled a culture of ensuring we pay suppliers in line with commercially agreed payment terms.
Long-term agreements are entered into with key suppliers where appropriate, and performance targets are regularly agreed with suppliers to align with our drive for continuous improvement. We have strong codes of conduct in relation to anti-bribery and corruption, competition law, human trafficking and modern slavery and criminal finances legislation, this zero-tolerance culture being driven by the Board of directors.
Shareholders and pension trustees
The Group's largest shareholder is UGC Pension Funding LP, a Limited Partnership whose shareholdings are beneficially held on behalf of the Group's main defined benefit pension schemes. As such the directors are actively involved in pension trustee meetings, with a number holding positions as employer nominated trustees on the independent trustee boards. In addition, the Group Chief Financial Officer will regularly update the trustee boards on the company's performance and future projections.
A large proportion of the remaining shareholders of Unipart Group are existing, former, or retired employees who receive updates from the directors through the employee communications referred to earlier. The key formal interaction with shareholders is through this report, the Annual Report & Accounts, which is distributed to all shareholders with a letter from the Chairman and Group Chief Executive. Any questions are invited to be made to the Group Company Secretary.
Our community and the environment
We recognise each of our businesses has an important role to play in its local community. We also acknowledge the impact of our business on the wider society. The Group, led by the directors, has been actively engaged with its community and publishes its corporate responsibility statement on the website. The Board is very proud of its success in achieving a variety of community and environmental awards, some of which are referred to in the Chairman's Statement and the Strategic and Operating Review, but we continue to seek out new ways to engage with our local communities and improve our environmental credentials.
The Group is committed to reducing its carbon footprint and during 2021 signed up to the UN Race to Zero Campaign. These matters are regularly discussed by the directors at the Group Board and Group leadership team meetings.
Regulatory bodies
The Group aims to maintain the highest standards of conduct with each of the regulatory bodies with which it engages. It does not adopt aggressive policies aimed to maximise short-term returns, instead the directors support a principled and moral way of doing business. We publish a number of our policies on our website including our zero tolerance to unethical matters such as bribery and corruption, along with maintaining transparent and fair policies with each of our stakeholders, such as those reported in the Group Tax Strategy and Gender Pay Report.
We maintain a regular dialogue with government bodies and regulators, and actively participate in various industry working groups and trade representative bodies. This enables us to engage in discussions regarding future policy development and planned regulatory changes, and to identify potential opportunities and risks for the business.