July 2022 – Energy efficiency in the NHS Supply Chain is not only beneficial for the environment but essential to operational delivery.
And following on from Energ-eyes Friday, a global event that encouraged all Unipart sites to brainstorm energy-saving ideas for their Unipart processes, and outside of work, NHS Supply Chain Maidstone assessed their systems to determine the best way to reduce energy usage on site.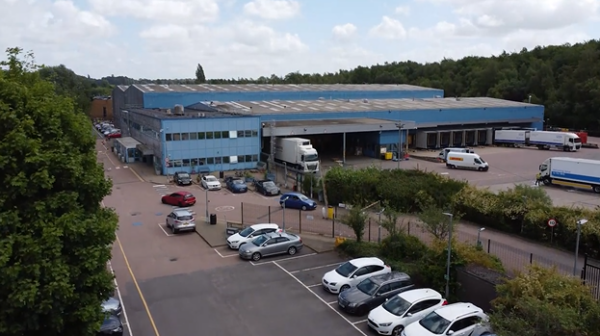 The Unipart Logistics facility stores and delivers stock to NHS hospitals and trusts across the country, as part of the contractual agreement as the supplier for NHS Supply Chain.
The Maidstone warehouse holds over £2.5m worth of stock, so it is crucial that the site is correctly temperature controlled as a system failure could cause a negative effect on hospitals and trusts.
To assure the safety of the stock, the warehouse underwent a project to strengthen the insulation of the building, this included adding loading airlocks, air curtains, new dock doors and inflatable door seals to make the building as energy efficient as possible.
Russell Hayes, Operations Excellence Manager, NHS Supply Chain Maidstone explains how they are able to control the temperature in the facility through a jet system: "The jet system is a massive air conditioning network that will heat and cool the building when needed. To do so it uses two types of energy, gas to heat and electricity (through a condenser unit) to cool the place down. We maintain a compliance level temperature between 15 – 25°C.
"I knew that if we took our mean down from 20°C to 19°C or even 18.5°C it would mean the jet system wouldn't have to operate for 12 hours because of the way we've insulated our building. We've been very successful and haven't had a system failure in over 18 months."
By using the data produced from sensors placed across the warehouse, Russell and the operational excellence team have optimised the system across the network, meaning less usage of the jet system and reducing their energy usage. All whilst creating large savings for the business.
Mick Davison, General Manager, NHS Supply Chain Maidstone said: "By not activating the jet system too early and not using that energy unnecessarily, we've managed to save £92,000 across the network."
Energy conservation has been a focus point at Unipart for a long time and last year, the Group signed up to UN Race to Zero campaign, a global coalition that aims to achieve net zero carbon emissions by 2050 at the latest.
Unipart is committed to making all operations more sustainable. This is evidenced by events such as Energ-eyes Friday