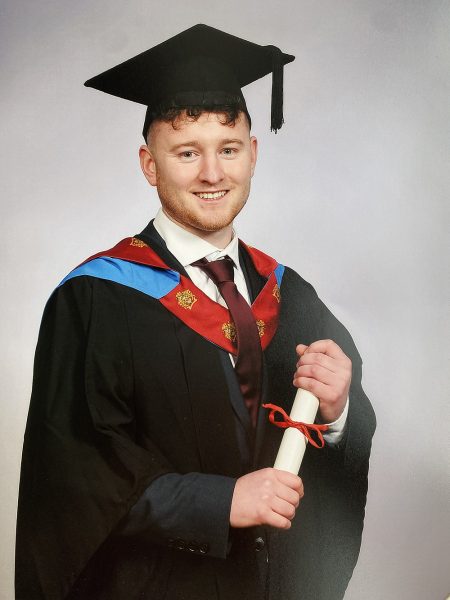 February 2022 – Sam joined Unipart Rail as an engineering apprentice and quickly found a career path.
Having gained experience in fabrication, manufacturing, and continuous improvement while taking a level 3 electrical and electronic engineering apprenticeship as a teenager, he was approached by the commercial team to use his knowledge to directly influence customers.
Sam said: "I'd always wanted to move onto the commercial aspect. I wanted to understand exactly how the products we made benefit customers in the rail infrastructure. I started a project management role, supporting business development managers, bringing the technical knowledge I had learned to bids."
When Sam wanted to continue an upwards career trajectory, his Unipart development review led him to a Chartered Management Degree Apprenticeship.
"I entered the application process but having begun my career straight from high school, I had no traditional further education experience and no UCAS points. Unipart Rail supported me with time off to study, and I successfully completed the tests to get accepted," said Sam.
Four years later, Sam achieved a 2:1 BA Honours degree from Manchester Metropolitan University.
The graduation ceremony last month was delayed two years by the pandemic, but in that time Sam's career has moved up into a business development management role providing products and services to Network Rail.
Looking back on his career, Sam said: "I grew up in Crewe and could see a lot of opportunities in the rail industry. When I joined Unipart I had a different mentor in each business area supporting my NVQ. Everyone was very approachable, and there were former apprentices which meant it was never awkward asking questions. It helped you build a relationship with those people and feel engaged."
It was in his initial apprenticeship where Sam started using The Unipart Way on a continuous improvement project. Today he uses The Unipart Way to improve results based on customer feedback, and introduced a digital technology to reduce quotation times.
"I used The Unipart Way tools and problem-solving circles, and found we needed to automate the process. I converted the quotation process into a digital calculator. It's a massive lifesaver in terms of quotation times, bringing them down from an hour to two minutes."