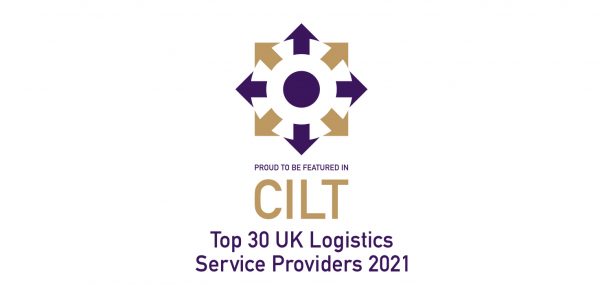 Unipart Logistics is proud to be recognised by the Chartered Institute of Logistics and Transport (CILT) in its list of Top 30 UK Logistics Service Providers for 2021.
CILT is the chartered body for professionals involved in the movement of goods and people and their associated supply chains. The organisation has more than 30,000 members worldwide from all sectors of the profession including logistics, transport, supply chain operations, policy and infrastructure.
Here Chief Commercial Officer, Claire Walters reflects on the challenges, solutions and achievements of the last eighteen months and the role that people and technology have played in delivering resilient supply chain solutions, and looks ahead to the future and continuing to predict and respond to customers' supply chain needs – read the full interview or watch the video below:
Congratulations on being named in CILT's Top 30. What does this mean to your organisation?
We are incredibly proud to feature in CILT's top 30 logistics providers list and pleased for all of our sites for getting the recognition they deserve. For our customers the importance of having an efficient, resilient and sustainable supply chain has come to the fore as never before and we've done ourselves proud in what we've managed to achieve for all of our customers – reacting in the moment to ensure not a single customer is let down and no orders are missed. I don't think there are many companies that could say that.
Our ability to respond, scale up and innovate has encouraged new ways of working and genuine collaboration between 'competitors' to deliver critical service solutions. Our customers recognise the vital role we've played in continuing to service their customers, so I'm delighted that the industry recognises Unipart as an example of best practice and for our people to see that they work for one of the industry's top businesses.
What are the standout achievements your organisation has experienced over the last year?
First and foremost, keeping all of our people safe – and keeping all of our customer operations going, which is no mean feat.
We've reacted to customer challenges in a really agile way. For example, we set up an emergency call centre to handle urgent enquiries relating to distribution and availability of essential equipment to frontline healthcare professionals in just 96 hours.  We were also proud to be heavily involved in the delivery of consumables for the roll out of the vaccine programme as soon as that went live in December, delivering to trusts and vaccination centres. Additionally, we are excited to experience some new business wins, most notably a new contract with Jaguar Land Rover to deliver their global automotive distribution centre. We also won a major technology contract and recently undertook a new contract in the health sector to deliver test kits, further supporting the nation's transition out of lockdown and return to normal.
What projects are you working on to make your organisation fit for the future?
Increasingly, as an industry, we are becoming more automated and focusing on making decisions in the moment. That comes to the heart of data and more predictive analytics, rather than looking at things historically. We are continuing to make investment in resources to identify, develop and deploy new technologies that deliver enhanced solutions at scale across customer operations and back-office functions, areas such as robotics, predictive technology, automation and machine learning.
Our suite of digital tools, services and products have been vital in keeping our teams connected and informed throughout the last 12 months even when they are physically apart. Our commitment to our people extends to development and wellbeing and supporting everyone to reach their potential through access to development, learning programmes and opportunities to grow with the business.
We are also continuing a programme of initiatives in 2021 that focus on sustainability and efficiency and which support Unipart's commitment to become net zero carbon by 2030 and to demonstrate a 50% reduction by 2025.
What do you believe makes your organisation stand out from the competition?
CILT has recognised our commitment to people. Our people stand out in the industry, they are passionate and care deeply about our customers' businesses. They have the mindset of doing whatever it takes to deliver for our customers. The Unipart Way has also been extremely helpful for us over the last year in terms of navigating situations and recognising the huge step change we've made in digital and technology. We've implemented some fantastic new products and we continue to invest in that arena.
The development internally of innovative, digital solutions is helping us to respond to customer challenges even more quickly, more collaboratively and in many cases by predicting challenges and providing solutions before customers even know they exist which is really exciting and creates strong, unbeatable advantage for our customer partnerships.
What changes/challenges is your organisation preparing for in the next 12 months?
The return to work and new hybrid ways of working will continue to be something that the industry works around as we look to keep our people and our processes safe.
Our challenges are our customers' challenges and we are always focusing on pre-empting those and trying to find solutions. We need to continue to remain agile, to be able to react at a moment's notice. When the first lockdown happened, for example, we pivoted one of our customer's businesses to online from being store-based and this resulted in a 1,300 % increase in online orders. I think that ability to react and still deliver for our customers in the moment will continue to be critical. We will continue to invest heavily in digital technology and continue to improve customer supply chains, making sure that we are thinking ahead. We pride ourselves at Unipart not only on focusing on what happening today but taking a long-term view to think about where the industry is going and how we can help our customers with that.