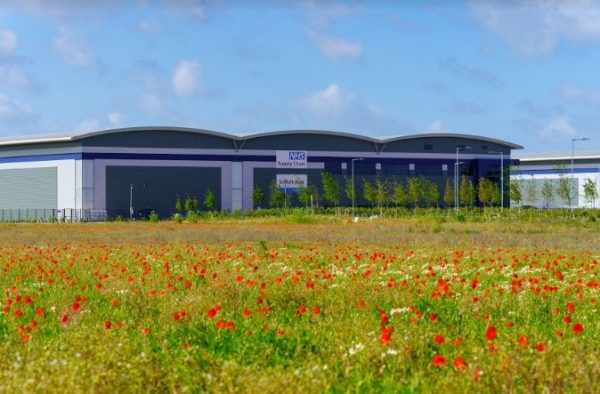 11th July 2019: NHS Supply Chain is pleased to announce that it will be opening a new Regional Distribution Centre (RDC) located in Bury St Edmunds on the Suffolk Park complex. It will be operated by NHS Supply Chain's logistics provider, Unipart Logistics and is scheduled to go live in May 2020.
This investment will provide additional warehouse capacity thereby enabling NHS Supply Chain's strategic objective of securing purchasing savings through increased use of the new operating model over the next five years.
With 147,000 square feet of space, the new site will be a key component of the NHS Supply Chain logistics network and will continue to serve NHS organisations in the South East region and parts of East Anglia. This new warehouse will replace the current Bury St Edmunds site which is approximately five miles away.
The publication of Lord Carter's report, published in 2015, identified wide variations in procurement practices across the NHS and concluded there was a need to improve consistency and effectiveness. This led the Department of Health and Social Care to undertake a transformation programme which delivered the New NHS Supply Chain Operating Model.
The overall aim of the new model is to leverage the collective buying power of the NHS to provide clinically assured products at the best value, meeting the diverse needs of NHS organisations and their patients. It will help to drive out costly price variation and deliver value and savings of £2.4 billion to be invested in frontline services and patient care by the end of the financial year 2022/2023.
Chris Holmes, Director of Supply Chain for NHS Supply Chain said: "Our investment in this new warehouse is a significant step forward to realising our ambition of providing additional warehousing capacity for the NHS. It's key to our long-term strategy of increasing usage of the NHS Supply Chain from circa 40 percent to 80 percent of NHS procurement spend on medical consumables and medical devices. We will be working closely with our provider Unipart Logistics during the design and build phase to ensure that we are ready for our planned opening in May 2020."
Frank Burns, Managing Director at Unipart Logistics said: "The new Bury St Edmunds site is an important enabler as we continue to identify opportunities to release value to NHS customers. By increasing our capacity, we can ensure we maximise productivity and efficiency within the logistics operation for NHS Supply Chain, and continue to provide a quality-led service."
Open modal