This month, Unipart Logistics celebrates the significant milestone of holding ISO 9001 certification for 30 consecutive years.
ISO 9001 is the internationally-renowned Quality Management System (QMS) standard for business of all sizes. In order to achieve certification, organisations must demonstrate considerable business resilience and sustainability, show strong corporate governance and prove they can work effectively with stakeholders. The standard also recognises the ability to meet customer requirements – and exceed customer expectations – with processes that are effective, efficient and reliable.
Holding ISO 9001 certification for 30 consecutive years is no mean feat, but why does this matter? Because when it comes to making a product, managing a service or process or supplying materials, holding ISO 9001 certification shows you have a high level of skills and expertise that can be trusted. ISO 9001 certification has helped – and is still helping – Unipart to expand into new markets by demonstrating to customers that our products, systems, specifications and services are organised, structured and valued across the globe.
Attaining ISO 9001 certification is not a one-off event, it's an ongoing journey that ensures compliance is embedded and sustained into the fabric of the organisation. To maintain this for 30 successive years shows a capacity to build quality into processes across the board. ISO 9001 is a good fit for Unipart because its principles align squarely with the deep-rooted philosophies that drive the Unipart Way; our own designated system of engaging, motivating and equipping people with the skills they need to identify problems and find innovative solutions to make a value added difference to outcomes. Both ISO 9001 and the Unipart Way promote safe, repeatable, reliable and capable processes that always add value to the customer. Operational Excellence is Unipart's ways of working where problem-solving, teamwork, and leadership combine to drive forward improvements across the organisation. This system focuses on the customers' needs and keeping our employees positive and empowered, whilst continually developing all our areas of work. It is, indeed, the very foundation of the Unipart Way.
Tony Egerton, BSI UKI Sales and Marketing Director, said: "We're very pleased to recognise Unipart for 30 years of quality excellence with BSI. This is a fantastic milestone to be celebrating. Congratulations Unipart."
What ISO 9001 means to Unipart people
"ISO 9001 has helped us to stay working within a structured framework. The standardised approach to quality management is closely aligned to Unipart's way of working and has been a natural fit for us.  It allows us to demonstrate our commitment to quality through a credible accreditation programme." Russell,  Distribution Centre Manager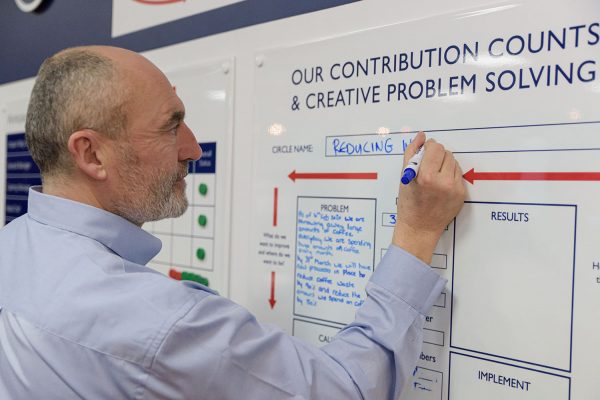 "ISO 9001 gives us a framework to ensure our standards remain consistently high. It ties in with our company principles so has become the way we work and the internal audit process ensures that any deviations to the standard are flagged and corrected. It enables us to ensure we deliver the best results for our customers, are able to manage our processes and manage change within our business." Danielle, Compliance Manager
Our QMS credentials: examples of ISO 9001 in action
The closure of a key distribution centre could have been disastrous , but our proven tools and systems and the ingenuity of our staff found quick and agile solutions.
When a leading American manufacturer needed to upscale its inventory management, we worked with them to find solutions
Open modal