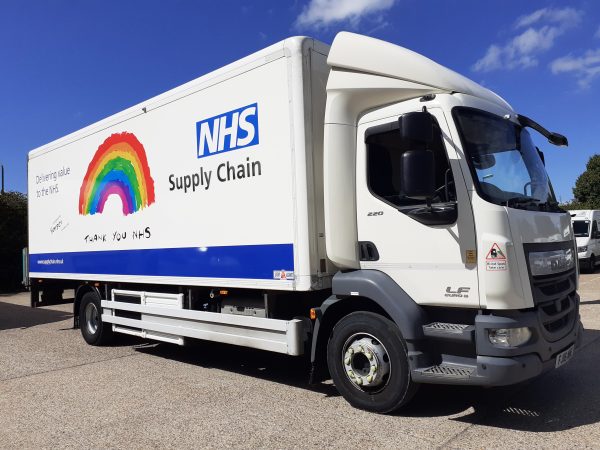 March 2021 – NHS Supply Chain, with its logistics service provider Unipart Logistics, is proud to play a key role in the delivery of vital equipment that NHS Trusts and other vaccination centres need to administer the Covid-19 vaccine.
NHS Supply Chain Logistics helps to deliver vaccine consumables – everything except the vaccine itself, from sharps bins to antibacterial wipes, paper towels to pens.
As soon as the vaccine was approved on 2 December 2020, Unipart ensured the products were immediately available, so that trusts and vaccination sites could start without delay. An expert team was formed across Unipart Logistics, with colleagues from Customer Service, Project Management, Inventory Management, Transport and Operations mobilising to ensure the equipment was delivered on time to mass vaccination sites and 223 hospital trusts across the country.
In addition, Unipart is providing customer services support to the national vaccination programme, as part of its expanded remit during the ongoing Covid-19 pandemic, which also includes dedicated support for the national PPE portal. Meanwhile, Unipart continues to manage the logistics service to the NHS Supply Chain, across its extensive network.
Claire Salmon, Director: NHS Supply Chain, Unipart Logistics, said: "We are proud to play a critical role in the UK vaccination programme, the scale of which is unprecedented in the history of the NHS Supply Chain.  A time critical project of such national importance demonstrated our operational agility, whilst the resilience of our colleagues has enabled us to provide this vital support, in addition to our day-to-day deliveries to the NHS."
Chris Holmes, Supply Chain Director, NHS Supply Chain said: The national vaccination programme has been the largest in the history of the NHS and it is a great honour for our teams to have played a part in the procurement and the delivery of some of the consumable products so vital for administering the vaccine. "The speed at which we have been able to respond to the programme's requirements is testament to the logistics expertise and agility of our teams to work collaboratively whilst also maintaining our business as usual operation. I'd like to say a huge thank you to everyone involved within NHS Supply Chain and our suppliers."
Adam Blake, Regional Lead, Customer Relationship Management (London), Supply Chain Coordination Limited, said: "Times have been exceptionally tough as we are all aware and your team have been doing a great job in testing circumstances. Your regional customer services teams at NHS Supply Chain have been working miracles in recent months, up and down the country."
NHS Supply Chain colleagues explain why they feel proud to be part of the unprecedented national response: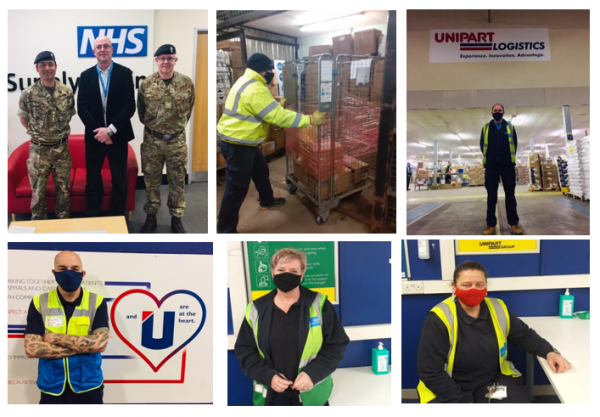 Karen, Warehouse Operative, NHS Supply Chain Alfreton:
 "I gained huge satisfaction from knowing that in some way we helped to save lives. The thanks that we received really made us feel like we were a part of something important and that made me feel appreciated."
Pat, Warehouse Operative, NHS Supply Chain Alfreton:
"It's only when I sit down and think back that I realise what we achieved. We supported each other, we delivered everything that needed delivering, we helped at everyone's time of need, and that makes me very proud."
Mark, Warehouse Operative, NHS Supply Chain Maidstone:
"It gives me great pride knowing my colleagues and I at Unipart have helped the NHS in leading the way with the vaccination programme."
Mark, Warehouse Operative, NHS Supply Chain Maidstone:
 "The pandemic is the largest public health crisis that I will experience in my lifetime. Doing my part, however small, to help bring it to an end is something that I feel extremely proud of."
Rob, Operations Manager, NHS Supply Chain Maidstone:
"It has given me a great sense of achievement to know that I am playing a part in making a difference. I also recognise and praise all other colleagues across the NHS Supply Chain as we have worked closely throughout the pandemic to ensure we meet customer expectations, to ultimately ensure the best patient care possible.
The highlight is knowing that we are playing our part in something unprecedented in all our lifetimes. I also enjoyed being the Unipart lead when the Army arrived, liaising with them on what was needed daily."
Steve, Driver and Driver trainer, NHS Supply Chain Bury St Edmunds:
 "It means everything to know that what we do as drivers through the cold, wet, snow and occasionally sun makes some sort of difference."