Establishing a 24/7 customer service operation in just four days would be a momentous challenge at any time. Add in the need to recruit a team of 40 and train them in the height of the global Covid-19 pandemic? Even harder. This is the challenge that Unipart Logistics was set in April 2020, as part of NHS Supply Chain's Covid response.
It's more than a year since the pandemic transformed all of our lives in ways we could never have previously imagined. However, by drawing on the agility and expert best practices embedded within Unipart's approach (known as the Unipart Way), NHS Supply Chain has ensured that the needs of NHS trusts, front line workers, and patients, have been prioritised.
Back in April 2020, Unipart was challenged to set up a Customer Service team to support Personal Protective Equipment (PPE) supply queries within 96 hours.
Unipart was approached by the Department of Health and Social Care, as part of its national PPE online portal, and worked closely with NHS Supply Chain to manage the launch. Since then, the online portal has delivered more than one billion pieces of free PPE, with the dedicated Unipart Customer Service team playing a pivotal role.
Office facilities for the new Customer Service team were found in Birmingham, and an experienced leadership team was deployed. Forty specialist Customer Service advisors were brought on board and trained. All of this was achieved whilst focusing on health and safety and maintaining social distancing in the workplace.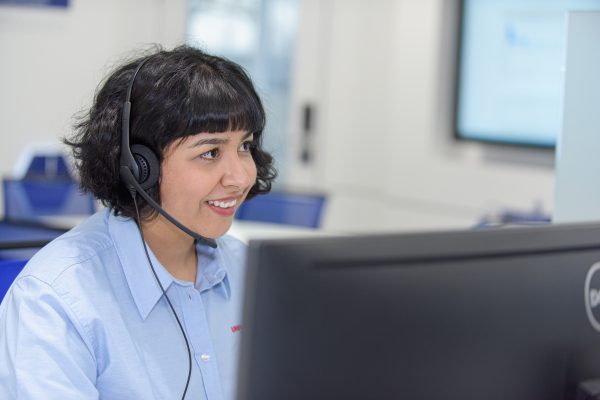 The PPE Customer Service team was put together over a single weekend, no mean feat when interviews and subsequent training had to be carried out remotely. Here, Unipart's ability to quickly implement transformative digital systems came to the fore.
Typically, such an operation would take at least a month to set up. However, interviews for the Customer Service roles were held on the Saturday and Sunday, with training following on the Monday and Tuesday and the service going live on the Wednesday.
The existing NHS Supply Chain Customer Service team, led by Unipart, was leveraged so that experienced leaders with unrivalled product knowledge were able to pass on their skills to new team members. This helped strengthen customer trust and confidence and build relationships.
Tim Ford, Unipart's NHS Account Manager, was responsible for the set-up and running of the new team. Tim said: "The team demonstrated great customer engagement, we listened and acted upon what we heard. We brought in leaders with Unipart Way experience who coached new advisors, made realistic plans with the customer and built strong relationships with partners."
Key process flows and work instructions were established to support the handling of customer queries, with the solution, able to handle 2,500 customer contacts per day and provide support for customers around the clock, mobilised and live in just 96 hours.
"It's worth remembering just how important this service was during phase one of the pandemic," added Tim.
"A lot of people were anxious, worried and afraid, but we provided someone for them to talk to at a crucial time. That context and the emotional connections our people developed with customers was hugely important."
Drawing on the know-how and experience of the Unipart Way was paramount to success, building quality into processes from the start. Through good training and sharing ideas, the team spotted potential problems and dealt with them before they escalated. Empowering the team with support and information meant processes were quickly adapted and improved.
The standard of excellence achieved has led to Unipart continuing to scale its Customer Service offering with the NHS, as a trusted partner during this global health crisis. Unipart is now providing dedicated Customer Service support as part of the national vaccine programme, in addition to ongoing support for the national PPE Portal and NHS Supply Chain network at large.
In a sector that is dependent upon achieving greater efficiencies and increasing levels of patient care, having a trusted logistics partner is vital.
Vanessa Readhead, Head of Healthcare Development said: "Unipart is proud to be supporting the NHS during these unprecedented times, prioritising the needs of Trusts and patients. Our focus is always on enabling agile, resilient supply chain solutions for all of our customers and, by combining extensive supply chain experience with technology solutions that enable quicker, faster, intelligent decisions to be made, we are well positioned to help customers overcome any supply chain challenges that they face."
Open modal