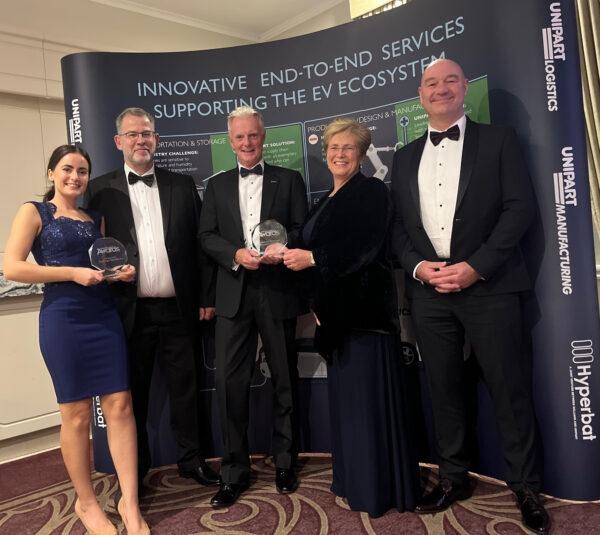 November 2022 – Unipart has won two prestigious awards at this year's Automotive Global Awards.
Unipart Group was named Corporation of the Year' for the pioneering solutions that Unipart Manufacturing Group and Unipart Logistics are delivering in both full EV battery production here in the UK and the design and delivery of innovative battery supply chain solutions.
In addition, Kathryn Sansbury was awarded 'Industry Rising Star 2022' by the judging panel for the role she has played in leading the development of an electrification proposition for Unipart Logistics that enables us to deliver advanced battery supply chain solutions for our customers. 
Automotive Global Awards by automotiveEV celebrate the achievements of individuals and companies driving the electrification of the automotive industry forward in the critical areas of battery, powertrain, hydrogen, sustainability, supply chain, infrastructure and charging.
Richard Hankinson, Automotive Strategy & Business Development Director said;
"In a sector that is evolving rapidly to meet the dynamic demands of automotive electrification, we are delighted that the breadth of Unipart Group capabilities is recognised by senior industry leaders and decision makers. This covers the manufacturing of highly advanced EV batteries with Hyperbat to innovative supply chain solutions supporting the full battery lifecycle across production logistics, the aftermarket and end of life solutions from Unipart Logistics.
It is becoming more and more critical to ensure that the aftermarket service provided to end customers of EV vehicles is not only highly responsive, but equally is sustainable, safe and cost effective for these large and complex batteries and our combined teams and Kathryn are doing some genuinely impressive work to lead the industry in this area."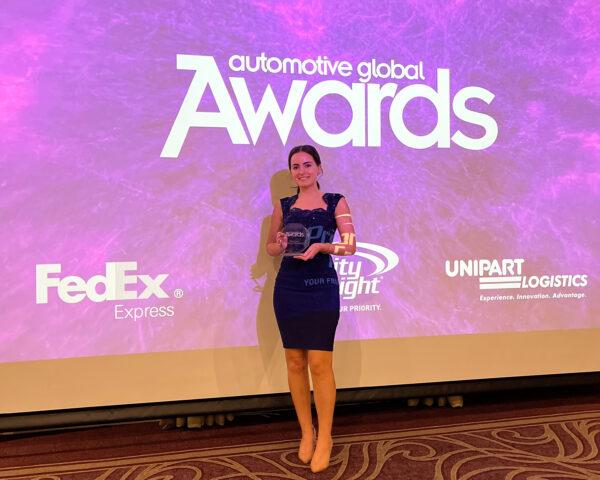 Kathryn Sansbury, Electrification Proposition Manager said: "I am thrilled to receive the award and to play a part in creating bespoke battery supply chain solutions for Unipart Logistics' customers that reflects the dynamic nature of EV battery logistics and the changing requirements and complexities that come with OEM specific requirements.
Understanding the risks, the service requirements and the sustainability implications are all areas that I am excited to have developed with colleagues across the Group as part of the approach to delivering an effective EV supply chain strategy for our customers."
Carol Burke, CBE, Managing Director of Unipart Manufacturing Group said: "This is a fantastic accomplishment and recognition of great collaboration to support our journey into low-carbon products, technology and services offered across the Unipart Group . We are no stranger to tackling the challenges our industry has and is facing, and it gives us great pleasure to be recognised for establishing a business model to commercialise and grow our electrification business and to lead the way in UK battery manufacturing."
Peter Wooding, CEO automotiveEV said:
'Our judging panel unanimously bestowed our highest company award to Unipart Group. Unipart continues to provide pioneering solutions for EV battery production, design and the delivery of battery supply chain solutions, the aftermarket and end-of-life solutions. Whilst this is a company award, their management and team members are the driving force behind achieving customer satisfaction. 
We are also delighted to recognise Kathryn for the role she has played in leading this work for Unipart and for her role in collaborating with industry to step forward discussions that set out to address the sector's evolving supply chain needs."