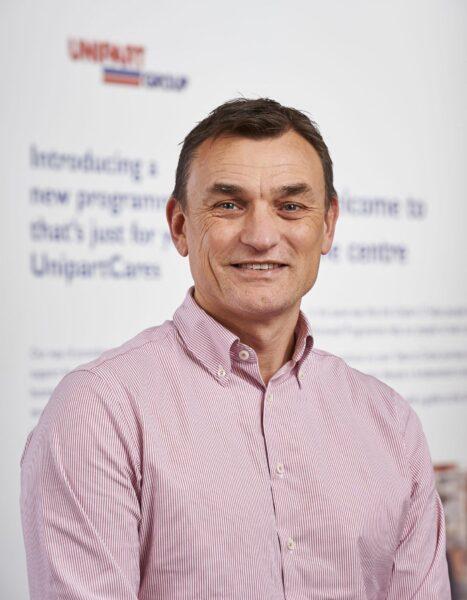 March 2023 – Chris Dixon has been appointed Director of Unipart Consultancy.
Chris has over 25 years' experience supply chain management in a range of Director level roles across logistics, commercial and project and programme management.
His experience in combining operational design and execution with customer relationship and commercial development means that he appreciates the value of strategic alignment to an organisation, and is skilled at working collaboratively across organisations to deliver optimal supply chain solutions.
Chris will lead Unipart Consultancy's offer in three in four distinct areas of supply chain, business transformation, programme delivery and sustainability as well as developing new consultancy propositions:
Supply Chain
Unipart Consultancy is uniquely positioned to draw on the Unipart Group's manufacturing, engineering and logistics capabilities and experience across complex supply chain management and combine it with data science and analytical insight to deliver resilient supply chain solutions.
Business Transformation
Our Business Transformation model supports customers to build capabilities that sustain quality, customer experience and productivity improvements in their organisations to deliver environmental, engagement and financial benefits.
Programme Delivery
Supporting businesses to scope, plan and deliver portfolios of change, programmes and projects.
Sustainability
Our experience measuring scope 1, 2 and 3 carbon emissions, defining science-based net zero targets and setting out a roadmap to achieve these means that we are ideally equipped to help customers embed sustainable principles that achieve long-term results.
Unipart Group has signed up to the UN Race to Zero, the global movement to become net-zero by 2050 and has set stretch targets to be net zero carbon for scope 1 and 2 emissions by 2030 and net zero carbon inclusive of scope 3 emissions by 2040 – find out more.
Chris Dixon, Director, Unipart Consultancy said:
"2022 was a successful year for Unipart Consultancy that saw us deliver transformation, supply chain and sustainability solutions for customers in sectors that include; Heavy Equipment, Automotive, Health, Ecommerce, Infrastructure, Marine, Rail, Financial Services and Higher Education.
Building on this momentum and leading the business forwards is incredibly exciting for me, as we leverage our Group's supply chain capabilities – that extend across planning, product design, engineering, manufacturing, logistics, the circular economy and technology – to deliver solutions that enable enduring transformation and performance gains for new customers.
We're the only consultancy who can genuinely show a customer transformation, sustainability and performance improvement in action inside our own business, because The Unipart Way has been the bedrock of our business and serving customers better than anyone else can for over 35 years'. I know that when needed, I can reach back into our Unipart businesses to 8000 experts for the best advice and support. That's unique and provides me and the team the confidence to take this experience, these capabilities and these benefits to new consultancy customers."