Hyperbat Limited is a Williams Advanced Engineering and Unipart Manufacturing Group joint venture
The Coventry site to open in early 2019, creating around 90 new, high-value, high-tech jobs
The first customer is Aston Martin
COVENTRY, 11 SEPTEMBER 2018
The UK's largest independent vehicle battery manufacturer will open in early 2019 in Coventry, creating around ninety new jobs, at a new, multi-million pound, high-tech facility that will produce batteries for future hybrid and electric vehicles.
The factory will be operated by a new joint venture, also unveiled today and named Hyperbat Limited (Hyperbat), combining the strengths of two of the UK's leading companies, Williams Advanced Engineering and Unipart Manufacturing Group.  The move has been welcomed by the Secretary of State for Business, Energy and Industrial Strategy as a significant step forward in the UK's contribution to reducing carbon emissions.
The new company and factory combine world-leading expertise in manufacturing, logistics and safe, innovative, high performance vehicle battery technology from Unipart and Williams.  The facility provides a secure future supply chain for UK-based car-makers as their vehicles transition to electric power, with the potential to provide similar solutions to developing marine and aircraft projects in future.  Following construction, Hyperbat will begin production at the site in Coventry in early 2019.  The launch customer for Hyperbat batteries is the Aston Martin Rapide E, which will be a limited production run.
"Hybrid and electric vehicles will play a key part in Britain's cleaner and greener future and this new high-tech facility – inspired by a government funded Advanced Propulsion Centre project – will develop new vehicle battery technologies and create high-skilled jobs in Coventry," said Business Secretary Greg Clark.  "Through the Industrial Strategy, the government is building on our world leading strengths in auto manufacturing and clean growth, making the UK the go-to place for these technologies and boosting the economic opportunities presented by our transition to a low-carbon economy."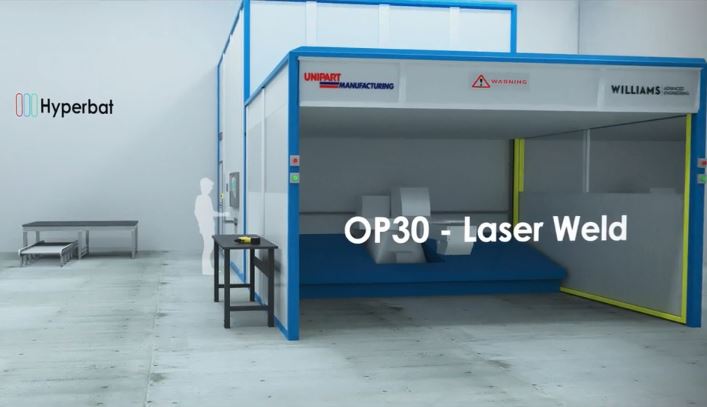 Williams Advanced Engineering has years of experience electrifying vehicles, from powering all the cars on the grid of the ABB FIA Formula E championship in rugged and competitive conditions to projects as varied as the Vanda Electrics Dendrobium electric hypercar and Jaguar Vector Racing world speed record-breaking electric boat.  In April 2018 Williams Advanced Engineering won the Queen's Award for Enterprise in the Innovation category for its work translating learning from the Formula E battery project into commercial applications.
Unipart is well-known for its expertise in automotive manufacturing, logistics and supply.  It will use its manufacturing and technological expertise to produce this more environmentally-progressive equipment to fuel the future of road transport.  Unipart will convert a century-old building, which most recently produced vehicle exhausts, to produce more environmentally-friendly equipment to power the future of road transport.
"Today marks a proud day as we bring together two innovative companies to deliver cutting edge technology that will literally power the future of sustainable transport in the UK and beyond," said Craig Wilson, Managing Director of Williams Advanced Engineering. "We are pleased to be working with Unipart, growing a new capability for our sector in this country for hybrid and electric vehicles, securing the on-shore supply chain for the long-term.  Hyperbat will also deliver into high performance battery applications beyond automotive, delivering innovative technology and high value manufacturing, as well as jobs for the next generation workforce."
Carol Burke, Managing Director of Unipart Manufacturing Group, said: "We are delighted to be working with Williams Advanced Engineering on this venture.  We have developed an advanced manufacturing facility on our Coventry site – the very site in which the British auto industry produced some of its first petrol vehicles.  It is fitting that this site will now provide clean, sustainable electric batteries that can be tailored to individual auto manufacturer's requirements and available to a wide range of companies seeking to introduce electric vehicles into their ranges."
The joint venture was inspired by H1PERBAT – an Advanced Propulsion Centre (APC)-funded, Williams Advanced Engineering-led consortium of organisations, set up in 2017, which also includes Unipart, Coventry University, Aston Martin and others.  It was established to build a high performance, low volume, flexible battery capability in the UK.  The joint venture will also draw on work undertaken by H1PERBAT, which also looked at second life options for car batteries, enabling a long-term sustainable future for the products in both the vehicles and beyond.
The products from the facility will meet global vehicle battery standards, including ISO26262 from the outset.  An example will be exhibited on the Williams Advanced Engineering stand at the Cenex Low Carbon Vehicles Show (Hall3 stand 602) from 12-13 of September.  Williams personnel will also be on the UK's Advanced Propulsion Centre stand at the Battery Show in Novi, Michigan, USA from 11-13 September to brief industry executives on Hyperbat Limited and its capabilities to power future electric vehicles.
The factory will open in early 2019 at the Unipart site in Beresford Avenue, which also houses the Institute for Advanced Manufacturing and Engineering (AME), a partnership between Unipart and Coventry University.  The AME will develop the skills and capabilities for the future, both for Hyperbat and for the broader electric vehicle supply chain.
Burke continued: "Using some of the most advanced manufacturing capabilities in this field, Hyperbat's production facilities will be highly adaptable to meet the changing requirements of future demands, while also addressing opportunities from non-automotive sectors looking to introduce sustainable propulsion into their product ranges."
A site opening event will take place in early 2019 for stakeholders and customers ahead of construction, with production at the facility getting under way in Q1 2019.  Additional customers for Hyperbat will be announced in due course.
To download a broadcast quality CGI fly-through video of the Hyperbat Limited factory click here.