The very best University educations take place as much in the world of commerce as they do in the lecture theatre. For the last four years, MetLase has been part of the development of The University of Sheffield's Formula Student team 'Sheffield Formula Racing'.
The Formula Racing initiative is designed to give students experience in 'real world' design and development – right from the initial concept through to racing their car in an event with over 80 other cars. It's this level of personal investment in working to succeed as a team that makes the initiative so exciting.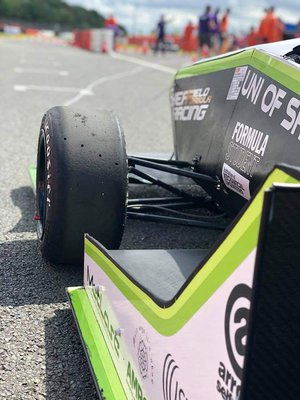 Choosing the right team
Tom Nalson, Mechanical Engineer Undergraduate, said "Every year we have 40-50 students involved in our team and we like to choose talented team-players who will benefit the most from the experience and who can demonstrate written as well as practical excellence."
The team is drawn from all years. Predominantly Mechanical Engineering, but also including Aerospace Engineering, Material Science, Electrical Engineering, and General Engineering. Out of 100 who apply each year, 10-15 new people join the team from the intake – and stay on the team until they finish the degree.
The events where the vehicle competes takes place in the UK at Silverstone and also at the TT Circuit in Assen in 2021 – although the Pandemic may postpone the trip to Europe.
Building the car
 Tom continued "For the competition, we have to build, test, drive and compete with the car – a small single-seater. Sponsorship is really important not just for materials, but in helping with engineering. For SFR11 (the team's current car) MetLase has been heavily involved in the chassis development (a complex spaceframe made from steel tubes) using MetLase jigging."

Richard Gould, Sales and Business Development Manager at MetLase said "More than one of the team has worked at MetLase in their careers following graduation, including George Packham who still works here. Spending time at MetLase means that the team gets a great insight into the designing process – learning 'on the job' from our experienced engineers – and our engineers get to be involved in a thrilling technology!".
This two-way engagement gives the students an 'edge' in their studies – "It's great experience that makes us more attractive to employees and helps us with the practical end of our studies that perfectly supports our education", Tom added.
Results
In 2019 the team achieved 14th place with SFR10. For SFR11 in 2021, the team is aiming to be in the top 10 at Silverstone and Assen – and hope to be the best UK team. We wish the team every success and will be rooting for them to win in 2021.