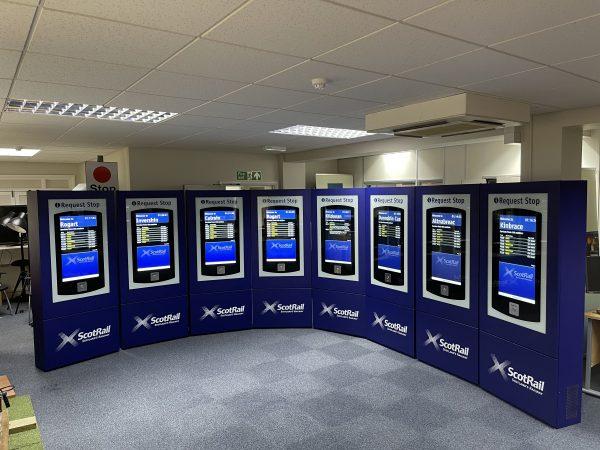 February 2022 – Comms Design, a Unipart Technologies Group company, is pleased to share its recent successful delivery of 'request to stop' kiosks to Network Rail for installation across eight stations in the Scottish Highlands.
The request-to-stop kiosk gives passengers access to live train information and forms part of a broader package of improvements to the line's radio signalling system, worth approximately £5m.
Eight stations on the Far North Line will benefit from the addition of the request-to-stop kiosks on platforms: Scotscalder, Altnabreac, Kinbrace, Kildonan, Dunrobin Castle, Rogart, Invershin and Culrain.
Due to their geographical remoteness, patronage at these stations is amongst the lowest in the UK and consequently they operate on a 'request to stop' basis – currently requiring the need to hand signal approaching trains to stop.
The request-to-stop kiosks will provide an enhanced service to the current operation of the railway by enabling passengers to request the next train stop at these stations using a radio system linked to the driver's cab.
By using the kiosk, passengers waiting at the stations can communicate directly with the driver, which offers both a more user-friendly experience, and improves performance for train operators. Once the kiosks are installed, trains won't have to slow down at stations if there is no one waiting (as they do now), delivering environmental benefits in terms of fuel saving, in addition to an anticipated reduction in maintenance requirements with less wear on train brakes. This all contributes to avoiding delays further down the route.
This new equipment is planned to go live across all eight request-to-stop stations on the line from Summer 2022. Scotscalder has been selected as a trial location where a period of dual running will extensively test the reliability of the enhanced system prior to it being rolled out.
The installation of the request-to-stop kiosks is part of a larger improvement project being delivered by Network Rail, which includes upgrading existing radio communication masts and antennas, and installing new equipment at Muir of Ord and Wick stations to enhance radio coverage to improve the reliability and resilience of the communications network across the route.  All of these measures will lead to the improvement of the overall passenger experience for those travelling on the line.
Paul Clark, Managing Director of Comms Design, said: "Providing the travelling public with a good user experience at rural request stop railway stations has presented a considerable challenge for a number of years.
"Comms Design has developed and delivered an innovative technology solution to this problem by integrating new platform equipment with our existing RETB signalling system that is already deployed on the route.
"Our technology skill set is a perfect match for this multidisciplinary challenge spanning product development, communication engineering, and custom software design, and the new system will put passengers firmly in control, whilst also bringing operational and environmental benefits to the railway."
Cara Healy, Network Rail's development manager for the work on the Far North Line, said:  "Enhancing the radio network will make the experience of using 'request to stop' stations more straightforward and will cater for the increased number of tourists visiting the area, particularly during the Covid pandemic.
"We are working through the winter to get this equipment ready to go live ahead of the busier summer months.
"This new system will make it easier to use some of the most remote stations on our network and hopefully help encourage more people to travel into the Highlands to walk, climb, cycle, and sightsee."
Ends
Comms Design is part of Unipart Technologies Group and is a high-tech design and manufacturing organisation specialising in electronic products for the rail industry.  Based in the UK, they are highly regarded as a reliable partner for safe, low cost signalling and communication equipment with  a proven track record for innovation and delivery.
Their flexible approach means they can help customers identify a system design that meets their needs and quickly produce solutions that are both efficient and effective.