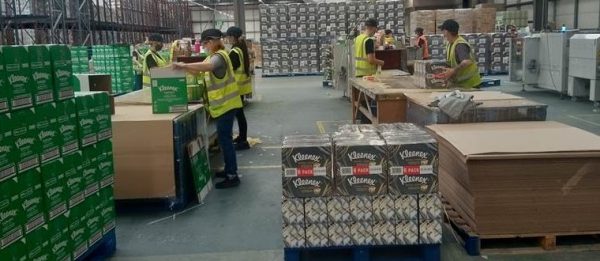 Unipart Logistics is supporting Kimberly-Clark with a huge increase in volumes due to rocketing demand throughout the Covid-19 pandemic, but the team have also been working collaboratively to build customer relationships and grow the contract further. In order to do this, they have used the Operational Excellence methodology to minimise the impact of social distancing on productivity.
Unipart has been in partnership with Kimberly-Clark since 2013, annually distributing over 39 million cases of leading brand paper products such as Kleenex tissues and Andrex toilet rolls to UK and European retailers.
General Manager Sara Sneath explains, "The co-packing team in Chorley conduct bespoke re-packaging for Kimberly-Clark when it is not cost-effective for them to produce this directly from their manufacturing lines. This is a significant area of growth for the contract, supported by the launch of a new allergy range of tissue products. Over the last year, we have seen a 44% increase in volumes processed with over 1.22 million cases packed in 2019."
"Introducing two metre social distancing into the area where our team manually pack tissue products into boxes meant that we had to reduce capacity by 20%. This meant productivity had been affected by 15%."
In order to tackle this, the team undertook an Our Contribution Counts problem-solving circle and used the Insight Star process to understand how to restore productivity levels.
A number of options were reviewed including several options for changing the layout of the area. After assessing each option, the team found an opportunity to increase the capacity on the workbenches to enable additional resource. This would speed the process up achieving the customer takt time and mitigating all productivity risk.
"However the team will not stop there and are continuing to drive safety for colleagues and further productivity improvements," said Sara.
"We will be following up on many of the other ideas generated through our OCC, including introducing perspex screens between our L-sealer machines, and we're continuing to work with the Group Digital team to explore automation. We will also be conducting a full review of Standard Work across the area as part of the new Team Leader's Management Gate to Great journey, supported and coached by our new Operational Excellence Manager."
Sara concludes, "We're currently working on a project to co-pack handgels which will commence in September– the first time UL has secured this work externally – and we'll use all the learning from our recent OCC to design the process."
"The customer has expressed gratitude to the team both for their hard work and for continuing to keep the site safe, and is thrilled with the progress we have recently made, writing to thank our colleagues for their continued efforts."