Ahead of Unipart's 50th anniversary in 2024, Transportation & Logistics International sat down with Adam Jones, Business Development & Sector Strategies Director to chat about the history of the company, what sets it apart in the logistics and supply chain space, and future growth for the Lead Logistics Partner (LLP).
"The 50-years-in-business celebrations are going to be brilliant next year," Adam begins. "It will be a great display of how we've evolved from a spare parts manufacturer and reseller in the automotive sector.
"Don't get me wrong, automotive is still our bedrock; in fact, it remains the largest sector we're involved in, and we're so proud of the longstanding relationships we have with iconic names such as JLR, VW and BMW. However, the point stands that we've changed.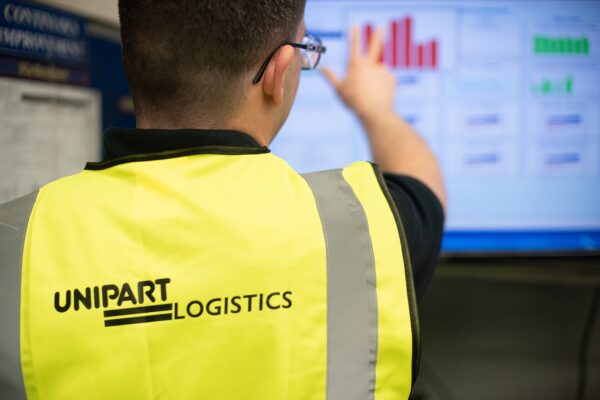 "Over the last five decades, we've embraced our new role as a third-party logistics (3PL) supply chain provider," Adam goes on. "That change has enabled us to expand into new sectors like healthcare. In fact, our second largest client is now the UK's National Health Service (NHS).
"We won the NHS Supply Chain contract four years ago, and it really catapulted us to the fore of UK healthcare. The timing of that contract meant that we were there alongside the NHS throughout the pandemic, helping it run smoothly and maintaining a consistent supply of vaccines and Personal Protective Equipment (PPE)."
Off the back of its success in alternative sectors, Unipart was inspired to expand into the technology world, winning significant contracts with big tech firms and e-commerce customers. But the 3PL provider hasn't stopped there.
Last year, for instance, it made a bold stride into the aerospace sector after securing a contract with Airbus and the construction industry by partnering up with equipment giant JCB. Evolution is a good thing – for one, it keeps a business agile; for another, it bolsters commercial resilience.
By having fingers in multiple pies, so to speak, Unipart is future-proofing itself against potential supply chain constraints and times of economic uncertainty. "It's all part of our wider company growth plans, as we gear ourselves up for an expansion period," reveals Adam.
"Indeed, we're looking to double the size of our business going forward. It's a big aspiration – and we know that – but we intend on making it a reality."
To double in size, however, a business must perfect the basics. It must stick to its underpinning ethos through good times and bad. On top of that, quality and performance must remain consistent. When these factors falter, brand image can fall apart – and with that, consumer trust.
So, what actions is Unipart taking to achieve its goal? And what makes the UK-based provider different from its competitors?
Adam's quick to answer: "The first thing that comes to mind is The Unipart Way, which is at the heart of everything we do at Unipart and is demonstrated in the way we think, the way we work and the way we behave.
"It's unique, and it sets us apart," he goes on. "People talk a lot about company culture. I think a lot of our competitors try to sell culture to force people into their business. That's not our way of doing things. Rather, we live and breathe it. The culture of Unipart is unique and continuous, supports people to fulfill their potential, to continuously challenge the status-quo and improve, and to think about safety and sustainability in everything that we do, as a result people feel empowered and supported."
"I've never worked for a company that's so engaged with its workforce. Unipart puts its people, its partnerships and the planet right at the heart of what it does, and that is an incredibly solid basis for the long term-partnerships with customers whose values and goals align with our own."
"We've dealt with some clients for more than three decades. They appreciate The Unipart Way, and how it can offer both flexibility and scalability. Unlike some firms, we're not slow to make decisions. We're quick, we're primed to act, and we're ready to jump on board a project and crack on.
We will only continue to grow since we have a range of leading partners supporting us. With them and their support, we're confident that we can expand together and offer our amazing service to a broader demographic."
These partners include Precision Facilities Management, Coombs Catering, and Staffing Match. Yet, despite its age, Adam conjures up the image of a young firm that still has something to prove.
This begets the question: Shouldn't all businesses strive to prove themselves over and over? Unipart is imbued by a young, entrepreneurial spirit and it seems keen to prove just how excellent it is, which is itself pretty laudable.
For Adam, another stand-out aspect of the company is its customer focus. "Because we're one of the UK's largest employee-owned businesses, the whole thing feels incredibly personal," he reflects.
"When we win a contract, we all celebrate. We're passionate about clients and the relationships we have with them and want our customers to see us as an extension of their own teams who care about their customers like they do. Our people do that, it's our customer promise "to understand the real and perceived needs of our customers better than anyone else and serve them better than anyone else", and that passion – for our partners and for each other – really makes Unipart stand out."
As one can tell, Adam's confident in what he does. But more importantly, he's confident in Unipart. Then again, why shouldn't he be? "From a technology and digitalization standpoint, I would put our analytics portal up against any competitors' tool – no matter where they are in the world, no matter how big they are," he contends.
"We're in the business of helping customers run their supply chains holistically, and our tool helps to provide the bigger picture. It conducts future analytics, meaning that it can predict highs and lows of a business over the next couple of years. We can then formulate a plan that takes this into account.
"Our tool offers valuable visibility," he adds. "It can, for instance, provide data so you will know how many employees you will require, where your new warehouses should be located, and an up-to-date list of the services you need to be offering your customers."
Talking of the future, Unipart is forecasting a promising one. Not only has the 3PL provider committed to carbon neutrality across scope 1 and 2 emissions by 2030, but it has also brought its original 2050 date for scope 3 neutrality forward by ten years.
On the back of this, Unipart is also launching a new digital product, Eco Insight, a Net Zero Management System to support companies on a long term sustainability journey achieve set goals.
The product promises to help customers to 'understand your world' and – through the real-time provision of energy and carbon data in a single dashboard view – enables businesses to drive actions that achieve net zero targets.
For Adam, though, the future will be about harnessing the untapped potential that still resides at the core of Unipart. "The projects we don't tell people about are truly immense!" he concludes. "Our PR and social media journey is only just beginning, and we cannot wait to inform the world about all the incredible things going on at Unipart. The future looks just as bright for the next 50 years, and we're seeing lots more opportunity to grow thanks to exciting new sectors like LLP and e-commerce."
Source: Transportation & Logistics International Magazine, June 2023 Edition. Read the original article here.